Elvis Presley – Mystery Train, is a song written and recorded by American blues musician Junior Parker in 1953. Originally performed in the style of a Memphis blues or rhythm and blues tune, it was inspired by earlier songs and later became a popular rockabilly song, as first covered by Elvis Presley, then numerous others.
Elvis Presley's version of "Mystery Train" was first released on August 20, 1955, as the B-side of "I Forgot to Remember to Forget". In 2003, Rolling Stone magazine ranked it at number 77 on its list of the 500 Greatest Songs of All Time. Sam Phillips at Sun Studios again produced the recording, and featured Presley on vocals and rhythm guitar, Scotty Moore on lead guitar, and Bill Black on bass. Moore used a country lead break and fingerstyle picking, with a touch of slapback echo. Moore also drew on elements from earlier songs, such as the guitar riffs from Junior Parker's "Love My Baby" (1953), played by Pat Hare, and "Sixteen Tons" (1946) by Merle Travis.
Paired with "I Forgot to Remember to Forget", the single reached the Top 10 in Billboard's C&W listings.
Is now considered to be an "enduring classic". It was the first recording to make Elvis Presley a nationally known country music star.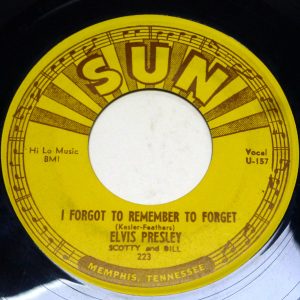 Elvis Presley – Mystery Train
A-side "I Forgot to Remember to Forget"
Released August 20, 1955
Recorded July 11, 1955
Genre Rockabilly
Length 2:29
Label Sun
Songwriter(s) Junior Parker Sam Phillips
Producer(s) Sam Phillips
Elvis Presley – Mystery Train lyrics
[Verse 1]
Train I ride, sixteen coaches long
Train I ride, sixteen coaches long
Well, that long black train got my baby and gone
[Verse 2]
Train train, coming 'round, 'round the bend
Train train, coming 'round the bend
Well, it took my baby, but it never will again
No, not again
[Verse 3]
Train train, coming down, down the line
Train train, coming down the line
Well, it's bringing my baby, 'cause she's mine all, all mine
She's mine, all, all mine
[Guitar Solo]
[Verse 2]
Train train, coming 'round, 'round the bend
'Round, 'round the bend
Train train, coming 'round, 'round the bend
'Round the bend
Well, it took my baby, but it never will again
Never will again
Ooh, whoa