Ernest Tubb and Red Foley – Goodnight Irene, or «Irene, Goodnight,» is a 20th-century American folk standard, first recorded by American blues musician Huddie 'Lead Belly' Ledbetter in 1933. A version recorded by the Weavers was a #1 hit in 1950.
The lyrics tell of the singer's troubled past with his love, Irene, and express his sadness and frustration. Several verses refer explicitly to suicidal fantasies, most famously in the line «sometimes I take a great notion to jump in the river and drown,» which was the inspiration for the title of the 1964 Ken Kesey novel Sometimes a Great Notion and a song of the same name from John Mellencamp's 1989 album, Big Daddy, itself strongly informed by traditional American folk music.
After the Weavers' success, many other artists released versions of the song, some of which were commercially successful in several genres. Frank Sinatra's cover, released a month after the Weavers', lasted nine weeks on the Billboard magazine Best Seller chart on July 10, peaking at #5. Later that same year, Ernest Tubb and Red Foley had a number 1 country music record with the song, and the Alexander Brothers, Dennis Day and Jo Stafford released versions which made the Best Seller chart, peaking at number 26, number 17 and number 9 respectively. Moon Mullican had a number 5 country hit with it in 1950, and a version by Paul Gayten and his Orchestra reached number 6 on the Billboard R&B chart in the same year.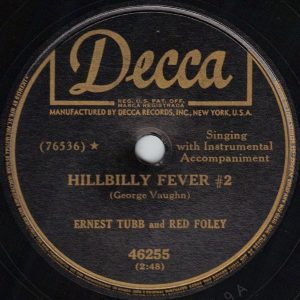 Ernest Tubb and Red Foley – Goodnight Irene
From album Red And Ernie 1956
B-Side: Hillbilly Fever #2
Sello: Decca – 46255
Formato: Shellac, 10″, 78 RPM
País: US
Publicado: 1950
Género: Folk, World, & Country
Estilo: Country
Written-By – Alan Lomax, Hudie Ledbetter
Ernest Tubb and Red Foley – Goodnight Irene lyrics
[Chorus: Both, Red Foley, & Ernest Tubb]
Irene goodnight
Irene goodnight
Goodnight Irene
Goodnight Irene
I'll see you in my dreams
[Verse 1: Red Foley]
Last Saturday night I got married
Me and my wife settled down
Now me and my wife are parted
Gonna take another stroll down town
[Chorus: Both, Red Foley, & Ernest Tubb]
Irene goodnight
Irene goodnight
Goodnight Irene
Goodnight Irene
I'll see you in my dreams
[Verse 2: Ernest Tubb]
Sometimes I live in the country
Sometimes I live in the town
Sometimes I take a fool notion
To jump in the river and drown
[Chorus: Both, Red Foley, & Ernest Tubb]
Irene goodnight
Irene goodnight
Goodnight Irene
Goodnight Irene
I'll see you in my dreams
[Verse 3: Ernest Tubb & Red Foley]
Stop rambling, stop your gambling
Stop staying out late at night
Go home to your wife and family
And stay by the fire side bright
[Chorus: Both, Red Foley, & Ernest Tubb]
Irene goodnight
Irene goodnight
Goodnight Irene
Goodnight Irene
I'll see you in my dreams
[Outro: Both]
I'll see you in my dreams