Charlie Rich – She Called Me Baby, is a country song written in 1961 by Harlan Howard.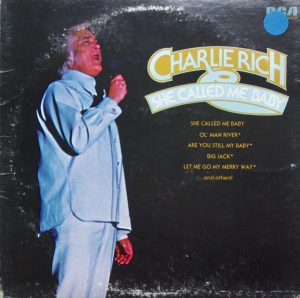 Charlie Rich recorded "She Called Me Baby" at one of a series of sessions produced by Chet Atkins at RCA Victor Studio in Nashville which occurred between March 1964 and February 1965. Like many Atkins-produced tracks of this era, "She Called Me Baby" featured choral backing and strings, a style prominent on other Rich recordings of the time. Despite a number of recorded versions, "She Called Me Baby" did not appear in the Top 20 of the C&W chart in Billboard until 1974 when a mid-60s recording by Rich was belatedly released to reach #1 C&W.
Rich's version of "She Called Me Baby" went unreleased as an album cut or single until after Rich had his star breakout in 1973, when he scored million-sellers with "Behind Closed Doors" and "The Most Beautiful Girl." That run of success continued into 1974, when several of his older recordings made during his tenures at RCA, Mercury and Sun records — "She Called Me Baby" included — were released as singles to C&W radio.
Released in September 1974 — around the time his Epic single "I Love My Friend" was peaking in popularity — "She Called Me Baby" reached #1 on the Billboard C&W chart dated December 7, 1974. "She Called Me Baby" was Rich's fifth #1 C&W hit in 1974 alone and his seventh #1 C&W hit overall.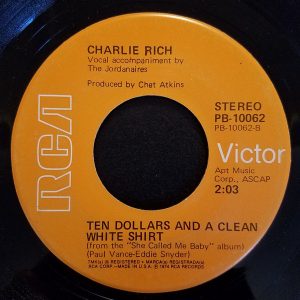 Charlie Rich – She Called Me Baby
From the album She Called Me Baby
B-side "Ten Dollars and a Clean White Shirt"
Released September 1974
Recorded 1964 or 1965
Genre Country
Length 2:27
Label RCA Records 10062
Songwriter(s) Harlan Howard
Producer(s) Chet Atkins
Charlie Rich – She Called Me Baby lyrics
She called me baby, baby all night long
Used to hold and kiss me 'til the dawn
Then one day I woke and she was gone
Now there's no more baby, baby all night long
She called me baby, baby all night long
Kissed my tears away when things went wrong
Oh what I'd give if she'd just come back home
And call me baby, baby all night long
She called me baby, baby all night long
Held me up so high and made me strong
Now each night in dreams just like a song
I still hear baby, baby
Baby, baby
Baby, baby all night long