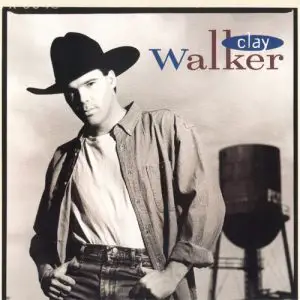 Clay Walker – Dreaming With My Eyes Open, is a song written by Tony Arata and recorded by American country music singer Clay Walker. It was released on May 27, 1994 as the fourth and final single from his self-titled debut album, and was featured in the soundtrack to the film The Thing Called Love. The song reached the top of the Billboard Hot Country Singles & Tracks (now Hot Country Songs) chart.
Tara Seetharam of Country Universe listed "Dreaming with My Eyes Open" as the 392nd best country single of the 1990s and wrote, "His infectious pledge to live in the moment is as effective as country's finest inspirational ballads because it's firmly grounded in reality."
The song debuted at No. 51 on the Hot Country Singles & Tracks chart dated June 11, 1994. It charted for 20 weeks on that chart, reaching number one on the chart dated August 27, 1994, marking Walker's third number-one single.
Clay Walker – Dreaming With My Eyes Open
From the album Clay Walker
B-side "Money Can't Buy (The Love We Had)"
Released May 27, 1994
Genre Country
Length 3:30
Label Giant
Songwriter(s) Tony Arata
Producer(s) James Stroud
Clay Walker – Dreaming With My Eyes Open Lyrics
I spent half my life on bended knee
Begging somebody to change
And the other half prayin' to God
That they never would
And all it got me was twice as lost
When it all turned out the same
But all that beggin' finally did somebody good
I used to dream all night
Of a day that was gone
But come the mornin' light
Forever from now on
Gunna do my dreamin' with my eyes wide open
I'll do my looking back
With my eyes closed
We can do some livin'
Or spend our whole lives hopin'
End the end we're left with
The one we chose
So I'll do my dreaming with my eyes wide open
Every time the world moved on
I fell a little further behind
From runnin' back or followin someone home
Until I learned that one step forward
Will take you further on
Than a thousand back or a million that ain't
Your own
I used to dream all night
Of a day that was gone
But come the mornin' light
Forever from now on
Gunna do my dreamin' with my eyes wide open
I'll do my looking back
With my eyes closed
We can do some livin'
Or spend our whole lives hopin'
End the end we're left with
The one we chose
So I'll do my dreaming with my eyes wide open
We can do some livin'
Or spend our whole lives hopin'
In the end we're left with
The ones we chose
So I'll do my dreaming with my eyes wide open