"Listen to the Radio" is a song written by Fred Knipe, and recorded by American country music artist Don Williams. It was released in April 1982 as the first single and title track from his album Listen to the Radio. The song reached number 3 on the Billboard Hot Country Singles chart and number 1 on the RPM Country Tracks chart in Canada.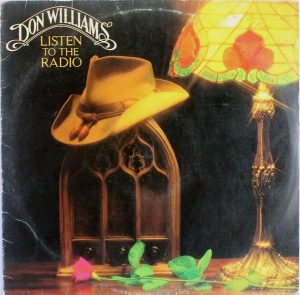 From the album Listen to the Radio
B-side "Only Love"
Released April 1982
Genre Country
Length 3:12
Label MCA
Songwriter(s) Fred Knipe
Producer(s) Don Williams, Garth Fundis
Don Williams – Listen to the Radio lyrics
I guess as a lover I have a ways to go
When someone wants you they should just say it's so
But you'll understand if you'll take my hand
And then we can dance real slow
To something on the radio.
Listen to the radio
Oh, listen to the radio
'Let's spend the night together
Baby don't go'
They sing it on the radio.
I try to find a way to explain to you
What's on my mind and not sound so plain to you
But you'll realize if you close your eyes
The feelings my words can't show
They're playing on the radio.
[Repeat chorus]
The words I'd say
Don't seem to sound as real
The songs they play
That's how I really feel, so.
[Repeat chorus]