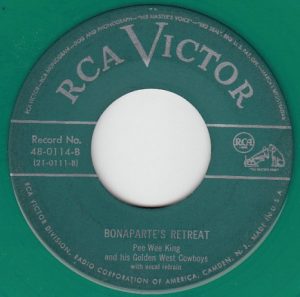 "Bonaparte's Retreat" is the name of two related songs. The original was a wordless melody that existed as various fiddle tunes dating back to at least the late 1800s and probably well before that. In 1950, American country music artist Pee Wee King recorded a modified version of the song, with lyrics added, which he also called "Bonaparte's Retreat". This latter song has been covered by many country artists.
In 1950, Pee Wee King released "Bonaparte's Retreat" as a single. This version slowed down the melody and added lyrics, about dancing with and wooing a girl. King's lyrics refer to the original song in the chorus: "I kissed her while the guitars played the 'Bonaparte's Retreat'".



King's song peaked at number 10 on the Billboard Hot Country Singles chart. Kay Starr recorded the song later in 1950. Her version peaked at number 4 on the Billboard Hot 100. Billy Grammer recorded and charted (#50) in 1959 with a crossover pop and country version.
Pee Wee King – Bonaparte's Retreat Lyrics
[Verse 1]
Met the girl I love in a town way down in Dixie
'Neath the stars up above, she was the sweetest girl I ever did see
[Refrain]
So, I held her in my arms and told her of her many charms
I kissed her while the fiddles played the "Bonaparte's Retreat"
[Verse 2]
All the world was bright, as I held her on that night
And I heard her say, "Please don't ever go away"
[Refrain]
So, I held her in my arms and told her of her many charms
I kissed her while the fiddles played the "Bonaparte's Retreat"
[Instrumental Break]
[Verse 3]
Met the girl I love in a town way down in Dixie
'Neath the stars up above, she was the sweetest girl I ever did see
[Refrain]
So, I held her in my arms and told her of her many charms
I kissed her while the fiddles played the "Bonaparte's Retreat"
[Verse 4]
All the world was bright, as I held her on that night
And I heard her say, "Please don't ever go away"
[Refrain]
So, I held her in my arms and told her of her many charms
I kissed her while the fiddles played the "Bonaparte's Retreat"