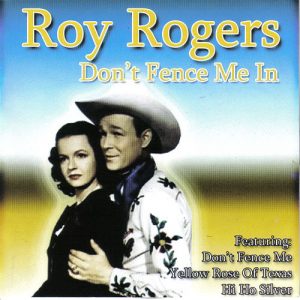 «Don't Fence Me In» is a popular American song written in 1934, with music by Cole Porter and lyrics by Robert Fletcher and Cole Porter. Members of the Western Writers of America chose it as one of the Top 100 Western songs of all time.
Roy Rogers sang it in the 1944 Warner Bros. movie Hollywood Canteen. Many people heard the song for the first time when Kate Smith introduced it on her radio broadcast of October 8, 1944.
In 1945, the song was sung again as the title tune of another Roy Rogers film, Don't Fence Me In (1945), in which Dale Evans plays a magazine reporter who comes to Roy Rogers' and Gabby Whittaker's (George «Gabby» Hayes) ranch to research her story about a legendary late gunslinger. When it's revealed that Whittaker is actually the supposedly dead outlaw, Rogers must clear his name. Rogers and The Sons of the Pioneers perform songs, including the Cole Porter title tune.



The next year (1946), the Cole Porter biopic Night and Day used a clip from Hollywood Canteen of Rogers singing «Don't Fence Me In.»
Roy Rogers – Don't Fence Me In Lyrics
O give me land, lots of land, and the starry skies above
Don't fence me in
Let me ride through the wide open country that I love
Don't fence me in
Let me be by myself in the evening breeze
Listen to the murmur of the cottonwood trees
Send me off forever but I ask you please
Don't fence me in
Just turn me loose, let me straddle my on saddle
Underneath the western skies
On my cayuse, let me wander over yonder
Till I see the mountains rise
I want to ride to the ridge where the West commences
To many words, gaze at the moon till I lose my senses
Can't look at hobbles and I can't stand fences
Don't fence me in
O give me land, lots of land, and the starry skies above
Don't fence me in
Let me ride through the wide open country that I love
Don't fence me in
Let me be by myself in the evening breeze
Listen to the murmur of the cottonwood trees
Send me off forever but I ask you please
Don't fence me in
Just turn me loose, let me straddle my on saddle
Underneath the western skies
On my cayuse, let me wander over yonder
Till I see the mountains rise
I want to ride to the ridge where the West commences
Gaze at the moon till I lose my senses
Can't look at hobbles and I can't stand fences
Don't fence me in