Elvis Presley – Heartbreak Hotel, is a song recorded by American singer Elvis Presley. It was released as a single on January 27, 1956, Presley's first on his new record label RCA Victor. It was written by Mae Boren Axton and Tommy Durden, with credit being given also to Presley.
A newspaper article about the suicide of a lonely man who jumped from a hotel window inspired the song. Axton presented the song to Presley in November 1955 at a country music convention in Nashville. Presley agreed to record it, and did so on January 10, 1956, in a session with his band, The Blue Moon Boys, the guitarist Chet Atkins, and the pianist Floyd Cramer. "Heartbreak Hotel" comprises an eight-bar blues progression, with heavy reverberation throughout the track, to imitate the character of Presley's Sun recordings.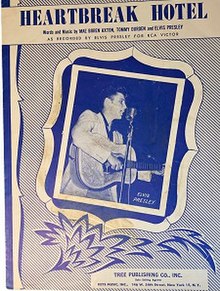 The single topped the Billboard Top 100 for seven weeks, Cashbox's Pop singles chart for six weeks, and the Country and Western chart for seventeen weeks as well as reaching No. 3 on the R&B chart, becoming Presley's first million-seller, and one of the best-selling singles of 1956. "Heartbreak Hotel" achieved unheard of feats as it reached the top 5 of Country and Western, Pop, and Rhythm 'n' Blues charts simultaneously. It would eventually be certified double platinum by the Recording Industry Association of America. Presley had first performed "Heartbreak Hotel" during a live show in December 1955 during a tour of the Louisiana Hayride, but the song gained strong popularity after his appearance on Stage Show in March 1956. It became a staple of Presley's repertoire in live appearances, last performed by him on May 29, 1977, at the Civic Center in Baltimore.
In 1995, "Heartbreak Hotel" was inducted into the Grammy Hall of Fame, and in 2004 Rolling Stone magazine named it one of the "500 Greatest Songs of All Time". That year it was also included in the Rock and Roll Hall of Fame's "500 Songs that Shaped Rock and Roll". A rock and roll standard, "Heartbreak Hotel" has been covered by several rock and pop acts, including Willie Nelson and Leon Russell, who recorded a duet version that topped the Country charts in 1979.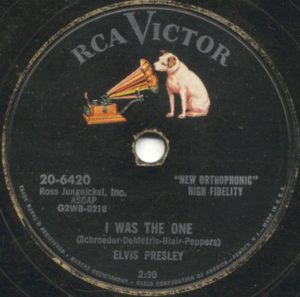 Elvis Presley – Heartbreak Hotel
B-side "I Was the One"
Released January 27, 1956
Recorded January 10, 1956
Studio RCA Victor (Nashville)
Genre Bluesrock and rollrockabilly
Length 2:08
Label RCA Victor
Songwriter(s) Mae Boren Axton Tommy Durden Elvis Presley
Producer(s) Stephen H. Sholes
Elvis Presley – Heartbreak Hotel lyrics
[Verse 1]
Well, since my baby left me
Well, I found a new place to dwell
Well, it's down at the end of Lonely Street
At Heartbreak Hotel
[Chorus]
Where I'll be, I'll be so lonely, baby
Well, I'm so lonely
I'll be so lonely, I could die
[Verse 2]
Although it's always crowded
You still can find some room
For broken-hearted lovers
To cry there in their gloom
[Chorus]
They'll be, they'll be so lonely, baby
They'll be so lonely
They're so lonely, they could die
[Verse 3]
Now, the bellhop's tears keep flowin'
And the desk clerk's dressed in black
Well, they've been so long on Lonely Street
They'll never, never look back
[Chorus]
And they get so, they get so lonely, baby
Well, they are so lonely
They're so lonely, they could die
[Verse 4]
Well, now, if your baby leaves you
And you got a tale to tell
Well, just take a walk down Lonely Street
To Heartbreak Hotel
[Chorus]
Where you will be, you will be, you'll be so lonely, baby
Well, you will be lonely
You'll be so lonely, you could die
[Instrumental Bridge]
[Verse 2]
Although it's always crowded
You still can find some room
For broken-hearted lovers
To cry there in their gloom
[Chorus]
Where they get so, they get so lonely, baby
Well, they're so lonely
They'll be so lonely, they could die