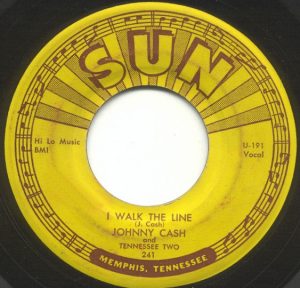 Johnny Cash – Get Rhythm, is a song written and recorded by American singer-songwriter and musician Johnny Cash. It was originally released as the B-side to the single release "I Walk the Line" in 1956 on Sun 241. It was re-released with overdubbed "live" effects in September 1969 as an A-side single and reached number 60 on the Billboard Pop chart.
Alice Randall in the book My Country Roots: The Ultimate MP3 Guide to America's Original Outsider Music asks the question, "racist, racialist, or race appreciating? You decide. Maybe the grinning "boy" hides something worth knowing in his mask as well as behind his mask. Well maybe he was white trash. "
Was released in 1956 as the B-side to Cash's first #1 hit, "I Walk the Line." In 1969, the original recording of "Get Rhythm" was released as a single itself, with sound effects dubbed in to simulate the sound of a live recording. This rerelease went to #23 on the country charts.
Johnny Cash – Get Rhythm
B-Side: Hey Porter
Sello: Sun – SUN 1103
Formato: Vinilo, 7″, 45 RPM
País: US
Publicado: 1969
Género: Rock, Folk, World, & Country
Estilo: Country, Rockabilly
Written: Johnny Cash
Johnny Cash – Get Rhythm lyrics
[Chorus]
Hey, get rhythm when you get the blues
Come on, get rhythm when you get the blues
Get a rock and' roll feeling in your bones
Put taps on your toes and get gone
Get rhythm when you get the blues
[Verse 1]
A little shoeshine boy he never gets low down
But he's got the dirtiest job in town
Bending low at the peoples' feet
On the windy corner of the dirty street
Well, I asked him while he shined my shoes
How'd he keep from getting the blues
He grinned as he raised his little head
He popped a shoeshine rag and then he said
[Chorus]
Get rhythm when you get the blues
Come on, get rhythm when you get the blues
A jumpy rhythm makes you feel so fine
It'll shake all your trouble from your worried mind
Get rhythm when you get the blues
[Chorus]
Get rhythm when you get the blues
Come on, get rhythm when you get the blues
Get a rock and' roll feeling in your bones
Put taps on your toes and get gone
Get rhythm when you get the blues
[Verse 2]
Well, I sat down to listen to the shoeshine boy
And I thought I was going to jump for joy
Slapped on the shoe polish left and right
He took a shoeshine rag and he held it tight
He stopped once to wipe the sweat away
I said you're a mighty little boy to be-a working that way
He said I like it with a big wide grin
Kept on a popping and he said again
[Chorus]
Get rhythm when you get the blues
Come on, get rhythm when you get the blues
It only costs a dime, just a nickel a shoe
But does a million dollars worth of good for you
Get rhythm when you get the blues