SWING POST OFFICIAL – Swinging Country March 18
Howdy Friends & Fans Here comes another PACKED to thew MAX Episode With LOTS of Important information so make Sure you have your Pen & Paper ready to jot down any information of major importance to you.
Again this week and until Bob Wills Day, Turkey, Texas I'll be Swinging out the gate with The Late Legends Frankie McWhorter & Leon Rausch with My Theme Song for Bob Wills Days Down Between The Rivers. Followed by my First Grouping featuring Bob Wills And His Texas Playboys, Billy Mata, Friends Who Like Jake Hooker and the Outsiders, Jason Roberts, Jody Nix, In Promotion of the 51st Annual Bob Wills Day Celebration in Turkey Texas.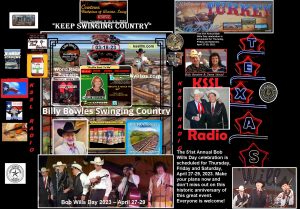 Next Weekend Kicks off The Season Becky Justice – Ford's Coyote Country Store in Gail Texas I'll Spin a Double Shot Each From The Malpass Brothers, Followed by Moe Bandy.
Next Is a Build Up to A World Radio Single Premiere from Anita Mackey Schwarber Starting with one from her Daddy Bobby Mackey, Followed by one I Previously Premiered from Anita and then The World Radio Premiere of her New Recording of A Hallmark Chuck Cusimano Tune Shuffle Back To Me.
My Next Grouping gets a Bit Western with Tunes from Bob Marshall, Ron Christopher, Clint A Bradley, Kristyn Harris Fan Group, KC LaCourse. ALL Picked Up Dena Wood's NDXpress
Next In Preperation of The 23 Annual Prestigious Cowtown Society of Western Music's Western Swing Fest. Joyce Miller. We'll hear from Rocky King, Brady Honeycutt, Doug Boggs, Jimmy Burson, Brady Bowen & Greg Gibbs.
Next Grouping by Request features Keith Whitley, Porter Wagoner, Tim Atwood, Conway Twitty.
And closing the show out with Keith Phillips, Zac Clifton, Curt Ryle, Missy Dunaway.
A Reminder to Join Us on My Personal Facebook Timeline for SWING – BACK for Chat for Fun FOr Fellowship For Questions FOr Comments Join and PARTICIPATE!!! Billy Bowles SWINGING COUNTRY 10:AM – 12:PM Central USA 11:AM – 1:PM Eastern @ KSSLFM.COM Until then May God Bless You and Yours 🙂 Keep Swinging Country—
Swinging Country March 18