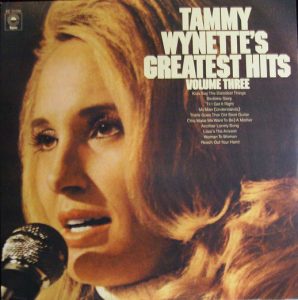 «(You Make Me Want to Be) A Mother» is a song written by Billy Sherrill and Norro Wilson, and recorded by American country music artist Tammy Wynette. It was released in January 1975 as the first single from her compilation album Tammy's Greatest Hits, Vol. 3.
«(You Make Me Want to Be) A Mother» was first recorded in November 1969 at the Columbia Recording Studio in Nashville, Tennessee. Two additional tracks were recorded during this session including the single's B-side. The recording session was produced by Billy Sherrill, Wynette's long-time producer.




The song reached number 4 on the Billboard Hot Country Singles chart in 1975, on the Canadian Country Singles charts, it reached number # 9 The song appeared on Wynette's third greatest-hits compilation release that year.
from the album Tammy Wynette's Greatest Hits, Volume 3
B-side «I'm Not a Has Been (I Just Never Was)»
Released January 1975
Studio Columbia Recording Studio
Nashville, Tennessee, U.S.
Genre Country
Length 2:51
Label Epic
Songwriter(s) Billy Sherrill. Norro Wilson
Producer(s) Billy Sherrill
Tammy Wynette – (You Make Me Want To Be) A Mother Lyrics
There's a world full of men
And I could take 'em or-or lea-eave 'em
'Cause when one would let me down
There'd be ten more standin' 'round to take his place
And I remember back then
How I loved to just decei-eive 'em
Playin' with 'em like a toy
Then leave 'em like a little boy
With teardrops o-on hi-is face
Love was just a game
And I knew just how to play-ay it
And I'll never understand
You were just another ma-an to me
Ahh, but you've got close
To what I cherish mo-ost
Mmm-mm-mm-mm-mm-mm, mm-mm-mm-mm-mm
You make me want to be a mo-other
And walk around with pride
With your char-armin' side
You make me want to be a mo-other
Ahh, who'd have thought that I would
Ahh, but it feels so good
'Cause you've got close
To what I cherish most
Mmm-mm-mm-mm-mm-mm, mm-mm-mm-mm-mm
Mmm-mm-mm-mm-mm-mm, mm-mm-mm-mm-mm