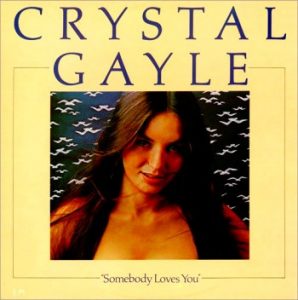 Crystal Gayle – I'll Get Over You, is a song written by Richard Leigh, and recorded by American country music artist Crystal Gayle. It was released in March 1976 as the second single from the album Somebody Loves You. The song was Gayle's seventh chart hit and her first number-one country hit in 1976.
In the mid-1970s, Gayle was trying to establish a recording career in country music. Gayle wanted to be on the level of her older sister Loretta Lynn. It was the help of her sister that helped produce Gayle's first single called "I've Cried the Blue Right Out of My Eyes."
However, it was the help of songwriter Richard Leigh who helped her gain control of her career. He wrote her first two big hits "Wrong Road Again" and "Somebody Loves You". In 1976, Gayle finally released "I'll Get Over You". The song became Gayle's first number-one hit and the song made Gayle a household name.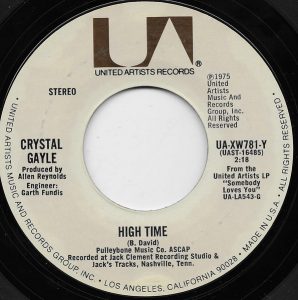 Crystal Gayle – I'll Get Over You
From the album Somebody Loves You
B-side "High Time"
Released March 1976 (U.S.)
Recorded 1975
Genre Country
Length 3:33
Label United Artists 781
Songwriter(s) Richard Leigh
Producer(s) Allen Reynolds
Crystal Gayle – I'll Get Over You lyrics
One thing 'bout this heart of mine
All my hurts got a mending time
It dont leave no scars behind
I'll get over you
I'll find me a guy one day
Who's not scared to give his heart away
When I do
It's safe to say that I'll get over you
I'll get over you
I'll get through it when I do
I'll be good as new
When I get over you
From now on think
I'll lay low
I'll talk fast
But I'll move slow
You taught me all I need to know
'Bout gettin over you
Sometimes I think I love you still
Wonder if I always will
But I know it's just untill I get over you
I'll get over you
I'll get through it when I do
I'll be good as new
When I get over you
Sometimes think I love you still
Wonder if I always will
Love for you's so hard to kill
But I'll get over you
I'll get over you
I'll get through it when I do
I'll be good as new
When I get over you
I'll get over you
I'll get through it when I do
I'll be good as new
When I get over you
I'll get over you
I'll get through it when I do
I'll be good as new
When I get over you
I'll get over you
I'll get through it when I do
I'll be good as new
When I get over you