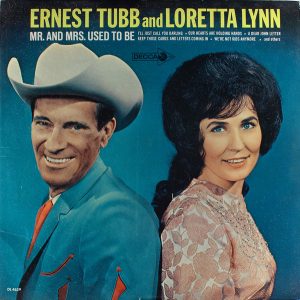 "Mr. and Mrs. Used to Be" is a song written by Billy Joe Deaton that was originally performed by American country music artists Loretta Lynn and Ernest Tubb. It was released as a single in July 1964 via Decca Records.
"Mr. and Mrs. Used to Be" was recorded at the Columbia Recording Studio on March 10, 1964. Located in Nashville, Tennessee, the session was produced by renowned country music producer Owen Bradley. Three additional tracks were recorded during this session.
"Mr. and Mrs. Used to Be" reached number eleven on the Billboard Hot Country Singles survey in 1964. It was included on their studio album, Mr. & Mrs. Used to Be (1965).




From the album Mr. & Mrs. Used to Be
B-side "Love Was Right Here All the Time"
Released July 1964
Recorded March 10, 1964
Nashville, Tennessee, U.S.
Genre Country
Label Decca
Songwriter(s) Billy Joe Deaton
Producer(s) Owen Bradley




Ernest Tubb And Loretta Lynn – Mr. And Mrs. Used To Be Lyrics
Now we go our seperate ways Mr and Mrs Used To Be
For oh so long I've loved you I know that you loved me
But time moved on and we grew far apart
It's not the way I wanted but the judge has set you free
Although you're still the first one in my heart
I just don't understand it how people such as we
Could know the love that we have known but somehow disagree
I hope that you'll be happy the same dear you from me
Now we go our seperate ways Mr and Mrs Used To Be
At first it was like heaven on earth for you and me
But heaven's sure has changed a lot since then
I can't put all the blame on you for some belongs to me
But started out at heaven reached an end
I guess we could have made it but pride stood in our way
For love to live it must have worked we never seemed the same
And so I say goodbye now kiss the kids for me
Now we go our seperate ways Mr and Mrs Used To Be