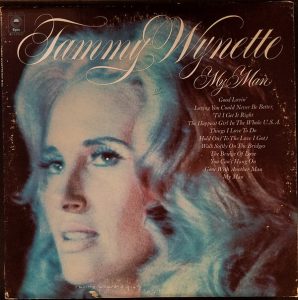 "'Til I Get it Right", a song written by Red Lane and Larry Henley, was recorded by Tammy Wynette for the Epic label, in May 1972, at Columbia Recording Studio, 804 16th Ave. South, Nashville, TN. was released on December 12, 1972, produced by Billy Sherrill. On March 10, 1973, it reached # 1 on the US Hot Country Songs charts, remaining a total of 15 weeks on the charts. On the Canadian RPM Country Tracks charts, it also reached number # 1 on February 24, 1973. It was the thirteenth number one in Tammy's career.
The song was included in Tammy's 11th studio album, My Man (Epic 1972), the album was released on September 25, 1972, on January 27, 1973, it reached # 2 on the US Top Country Albums charts , and remained a total of 22 weeks on the charts.




About the song:
Tammy Wynette was married five different times and in 1973 she was with her third husband, George Jones. The fact that four marriages failed used to be a source of regret for Tammy, and she sometimes joked that "Until I Get It Right" was the story of her life. When she first heard it, she remembered all the silly mistakes she had made, like all of us. Wynette even went a step further, interpreting the song's hook to mean not just "falling in love until you get it right", but life in general.
The inspiration for the melody belonged to songwriter Larry Henley, a former member of the rock band "The New beats" who scored only one smash, No. 2 on the Billboard Hot 100 "Bread And Butter" in 1964. Henley was changing from a pop to country career when he conceived "'Til I Get It Right ". He thought of the idea on a plane flying back from London with the New beats. She then teamed up with a songwriting friend of her, Red Lane, to finish the song.
Henley and producer Billy Sherrill have different stories about how "Until I Get It Right" at Sherrill's office. Billy claims he first heard it during a "guitar tug" on the Cumberland River, a Nashville ritual in which songwriters gather in a circle, pass a guitar, and sing their latest compositions to each other. Sometimes producers come to these events to create new songs for their artists and Billy Sherrill was at it. Red Lane got up and sang "Til I Get It Right " , and Sherrill asked who had the publisher rights. Lane said, "Nobody, I just wrote it." Billy said, "I have to have it for Tammy" . Sherrill insists they recorded it later that week.
Henley's version of the story differs considerably. She says neither Sherrill nor Wynette were particularly interested in "Until I Get It Right " . Larry relates that Red Lane was taking flying lessons at the time and wanted to fly on the day Tammy was filming. Henley said to Red, "Why don't we stop by the studio and play the song for Tammy, then let's go fly?" So that's what they did, but according to Larry, neither Billy nor Tammy liked the song. George Jones was there. He liked it and allegedly convinced them to write down the number. Whether it was Jones or Sherrill who made the decision, it was a good decision. "'Til I Get It Right" became Tammy Wynette's 12th solo single to reach number one. He did so on March 10, 1973.
Some Versions:
Bettye Swann 1973 (Atlantic Records)
Jean Shepard 1973 (United Artists Records)
Burt Reynolds 1973 (Mercury)
Diana Trask 1973 (Dot Records)
Tom Jones 1974 (Decca)
Kenny Rogers 1976 (United Artists Records)
Dottie West 1977 (United Artists Records)
Billie Jo Spears 1981 (Warwick)
Highway 101 1991 (Warner Bros.)
Trisha Yearwood 1995 (MCA)
And some more …




Tammy Wynette – 'Til I Get It Right Lyrics
I'll just keep on falling in love till I get it right
Right now I'm like a wounded bird hungry for the sky
But if I try my wings and try long enough I'm bound to learn to fly
So I'll just keep on falling in love till I get it right
My door to love has opened up more times than in
I'm either fool or wise enough to open it again
Cause I'll never know what's beyond that mountain till I reach the other side
So I'll just keep on falling in love till I get it right
If practice makes perfect then I'm near bout as perfect as I'll ever be in my life
So I'll just keep on falling in love till I get it right