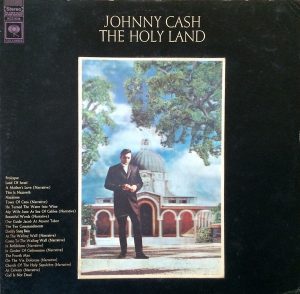 Song written by rockabilly legend Carl Perkins in 1967, who was a member of Johnny Cash's touring show at the time. Carl Perkins was an alcoholic and Cash had been a drug addict who, in finding God, overcame those addictions and then helped Carl Perkins, who spent a lot of time on the road with Cash. Feeling inspired, Perkins wrote the song "Daddy Sang Bass", wrote about the long songs that many families in the Bible Belt would have after a hard day's work, with chorus lines from "Will the Circle Be Unbroken ?.
Johnny Cash recorded it in mid-1968 and was released in October of the same year, produced by Bob Johnston, for the Columbia label, the song was included on the album, The Holy Land (Columbia 1969). The song went to number 1 on Billboard's country chart for 6 weeks and spent a total of 19 weeks on the chart. The single reached the number 56 in the list of singles MGP of Cashbox in 1969. Also, it arrived at number 1 in the Canadian lists.
Carl Perkins also recorded the song for his compilation album the Greatest Hits (Columbia 1969), which became the Top 40 of hits on Billboard's album list that year.




Some versions :
Dick Nolan 1968 ( Arc Records )
Kitty Wells 1969 ( Decca Records )
The Statler Brothers 1969 ( Columbia )
Glenn Campbell 1970 ( Capitol Records )
Mel Tillis 1973 ( Pickwick Records )
The Oak Ridge Boys 1981 ( Sunbird Records )
Pinkard & Bowden 1984 ( Warner Bros )
Leon Russell 1998 ( Ark 21 Records )
Johnny Cash – Daddy Sang Bass lyrics
I remember when I was a lad
Times were hard and things were bad
But there's a silver lining behind every cloud
Just poor people, that's all we were
Trying to make a living out of black land dirt
We'd get together in a family circle singing loud
Daddy sang bass
Mama sang tenor
Me and little brother would join right in there
Singing seems to help a troubled soul
One of these days and it won't be long
I'll rejoin them in a song
I'm going to join the family circle at the throne
No, the circle won't be broken
By and by, Lord, by and by
Daddy sang bass
Mama sang tenor
Me and little brother would join right in there
In the sky, Lord, in the sky
Now I remember after work
Mama would call in all of us
You could hear us singing for a country mile
Now little brother has done gone on
But, I'll rejoin him in a song
We'll be together again up yonder in a little while
Daddy sang bass
Mama sang tenor
Me and little brother would join right in there
In the sky, Lord, in the sky
Daddy sang bass
Mama sang tenor
Me and little brother would join right in there
In the sky, Lord, in the sky