Johnny Cash – The Rebel – Johnny Yuma, is the theme song for the ABC-TV series The Rebel. It was written by Richard Markowitz (music) and Andrew J. Fenady (lyrics) and recorded by Johnny Cash.
The song was released as a single by Columbia Records (Columbia 4-41995, with "Forty Shades of Green" on the opposite side) in April 1961.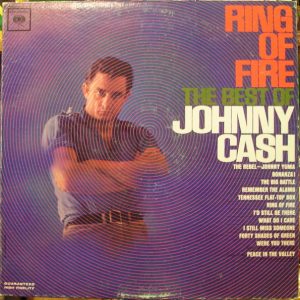 In 1959 Cash recorded "The Rebel – Johnny Yuma," written by Richard Markowitz and Andrew J. Fenady. Cash was asked to perform the theme song to the TV western The Rebel, which starred Nick Adams and ran from 1959 to 1961. The theme of the series must have appealed to Cash. It was the tale of a young Confederate soldier who is left to wander aimlessly throughout the West two years after the Civil War had ended. The song perfectly captures the loneliness the soldier experiences as he wanders alone through a lawless land. And although Cash did not write it, you would never know it. The song made it to number 24 on the country chart in 1961, shortly before the series was canceled. It was originally released as the title song of [the four-song 1959 EP] Johnny Cash Sings the Rebel – Johnny Yuma.
— John M. Alexander. The Man in Song: A Discographic Biography of Johnny Cash
Johnny Cash – The Rebel – Johnny Yuma
From the album Ring of Fire: The Best of Johnny Cash
A-side "The Rebel – Johnny Yuma"
"Forty Shades of Green"
Released April 1961
Genre country
Label Columbia 4-41995
Composer(s) Richard Markowitz
Lyricist(s) Andrew Fenady
Johnny Cash – The Rebel – Johnny Yuma Lyrics
[Intro]
(Away, away, away rolled the rebel Johnny Yuma, Johnny Yuma)
[Chorus]
Johnny Yuma was a rebel
He roamed through the West
Did Johnny Yuma, the rebel
He wandered alone
[Verse 1]
He got fighting mad this rebel lad
He packed no star as he wandered far
Where the only law was a hook and a draw
The rebel, Johnny Yuma
(Away, away, away rolled the rebel)
[Chorus]
[Verse 2]
He searched the land this restless lad
He was panther quick and leather tough
If he figured that he'd been pushed enough
The rebel, Johnny Yuma
(Away, away, away rolled the rebel)
(Johnny Yuma, Johnny Yuma)
[Chorus]
[Verse 3]
Fighting mad this rebel lad
With a dream he'd hold until his dying breath
He'd search his soul and gamble with death
The rebel, Johnny Yuma
(Away, away, away rolled the rebel)
(Johnny Yuma, Johnny Yuma)