"Honey Don't" is a song written by Carl Perkins, originally released on January 1, 1956 as the B-side of the "Blue Suede Shoes" single, Sun 234. Both songs became rockabilly classics. Bill Dahl of Allmusic praised the song saying, "'Honey Don't' actually outclasses its more celebrated platter-mate in some ways." It has been covered by more than 20 other artists, including the Beatles, Ronnie Hawkins and Johnny Rivers. The song has appeared in the films Prince of Tides, Diner, and Perfect Sisters.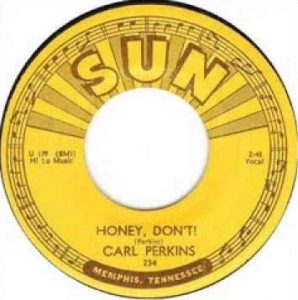 A-side "Blue Suede Shoes"
Released January 1, 1956
Recorded December 1955, Sun Studio, Memphis, Tennessee
Genre Rockabilly
Length 2:53
Label Sun
Songwriter(s) Carl Perkins
Producer(s) Sam Phillips
Carl Perkins – Honey Don't Lyrics
Well how can you say you will when you won't
Say you do, baby, when you don't?
Let me know, honey, how you feel
Tell the truth, now, is love real?
But oh well, honey don't, well, honey don't
Honey don't, honey don't, honey don't
I say you will when you won't, oh honey, don't
Well, I love you, baby, and you ought to know
I like the way you wear your clothes
If it's in a batch you were so doggone sweet
You got that sand all over your feet
Well, sometimes I love you on a Saturday night
Sunday morning, you don't look right
You've been out painting the town
Uh baby, been stepping around