Hank Snow – I'm Moving On: A Classic Country Music Hit
If you're a fan of classic country music, you've probably heard of Hank Snow's «I'm Moving On.» This song, released in 1950, has become a staple of the genre and is still beloved by fans today. In this article, we'll take a closer look at the song's history, meaning, and impact on country music.
The Story Behind the Song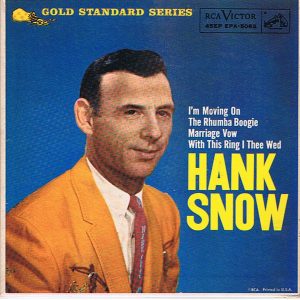 «I'm Moving On» was written by Hank Snow himself and recorded in 1950. It was released as a single and quickly rose to the top of the Billboard country music chart, where it stayed for an impressive 21 weeks. The song was included in Hank Snow's EP «I'm Moving On,» RCA Vicror 1958 and was produced by Stephen Sholes.
The lyrics of «I'm Moving On» tell the story of a man who is leaving his past behind and moving on to a new life. The song's upbeat tempo and catchy melody make it a classic country music hit that has stood the test of time.
The Meaning of «I'm Moving On»
«I'm Moving On» is a song about leaving the past behind and starting anew. The lyrics speak to anyone who has ever felt stuck in a rut and needed to make a change in their life. The song's message of hope and renewal has resonated with fans for over 70 years and continues to be a beloved classic.
Hank Snow: The Singing Ranger
Hank Snow was a Canadian country music singer and songwriter who had a long and successful career in the industry. He was known as «The Singing Ranger» and was famous for his distinctive voice and guitar playing style. Snow was inducted into the Country Music Hall of Fame in 1979 and passed away in 1999.
The Legacy of «I'm Moving On»
«I'm Moving On» has had a lasting impact on country music and has been covered by many artists over the years. The song has been included in numerous country music compilations and has been featured in movies and TV shows. Its enduring popularity is a testament to the power of classic country music and the talent of Hank Snow.
If you're a fan of country music, «I'm Moving On» is a must-listen. Its catchy melody, upbeat tempo, and inspiring lyrics make it a classic that will never go out of style.




Hank Snow – I'm Moving On Lyrics
[Verse 1]
That big eight wheeler a rollin' down the track
Means your true lovin' daddy ain't comin' back
'Cause I'm movin' on, I'll soon be gone
You were flyin' too high for my little old sky
So I'm movin' on
[Verse 2]
That big loud whistle as it blew and blew
Said hello to the Southland, we're comin' to you
And we're movin' on, oh hear my song
You had the laugh on me, so I've set you free
And I'm movin' on
[Verse 3]
Mister Fireman, won't you please listen to me
'Cause I got a pretty mama in Tennessee
Keep movin' me on, keep rollin' on
So shovel the coal, let this rattler roll
And keep movin' me on
[Verse 4]
Mister Engineer, take that throttle in hand
This rattler's the fastest in the southern land
To keep movin' me on, keep rollin' on
You're gonna ease my mind, put me there on time
And keep rollin' on
[Verse 5]
I've told you baby from time to time
But you just wouldn't listen or pay me no mind
Now I'm movin' on, I'm rollin' on
You've broken your vow and it's all over now
So I'm movin' on
[Verse 6]
You switched your engine, now I ain't got time
For a triflin' woman on my main line
'Cause I'm movin' on, you done your daddy wrong
I've warned you twice, now you can settle the price
Cause I'm movin' on
[Verse 7]
But someday baby when you've had your play
You're gonna want your daddy but your daddy will say
Keep movin' on, you stayed away too long
I'm through with you, too bad you're blue
Keep movin' on