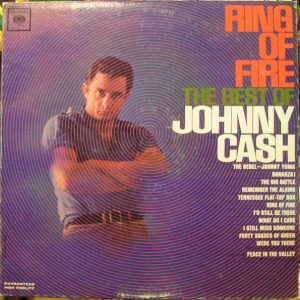 Johnny Cash – Tennessee Flat Top Box, is a song written and recorded by American country music singer Johnny Cash. It was released as a single in late 1961, reaching 11 on the Billboard country singles charts and 84 on the pop charts. The song's name refers to a steel-stringed acoustic guitar.
The song is a story of a little boy aspiring to be a country singer, who starts his career at a local cabaret in a South Texas border town. He has no physical abilities, only his ability to play the guitar, which he loves so much that making money is secondary to him. He becomes so popular that girls "from there to Austin" would secretly leave home and pawn jewelry for money to make the trip to hear him play, and "all the girls from nine to ninety, were snapping fingers, tapping toes, and begging him: 'Don't stop.'"
Ultimately he disappears from the local scene, only to re-emerge on television, having fulfilled his dream.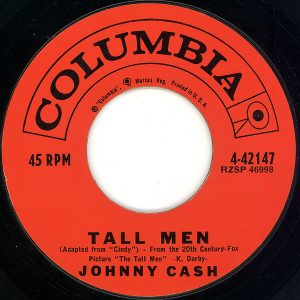 Johnny Cash – Tennessee Flat Top Box
From the album Ring of Fire
B-side "Tall Men"
Released December 1961
Genre Country
Length 3:00
Label Columbia #42147
Songwriter(s) Johnny Cash
Producer(s) Don Law, Frank Jones




Johnny Cash – Tennessee Flat Top Box Lyrics
[Verse]
In a little cabaret in a South Texas border town
Sat a boy and his guitar
And the people came from all around
And all the girls from there to Austin
Were slipping away from home and putting jewelery in hock
To take the trip, to go and listen
To the little dark-haired boy
That played the Tennessee flat top box
And he would play
Well, he couldn't ride or wrangle
And he never cared to make a dime
But give him his guitar, and he'd be happy all the time
And all the girls from nine to ninety
Were snapping fingers, tapping toes
And begging him don't stop
And hypnotized and fascinated
By the little dark-haired boy
That played the Tennessee flat top box
And he would play
Then one day he was gone, and no one ever saw him around
He'd vanished like the breeze, they forgot him in the little town
But all the girls still dreamed about him
And hung around the cabaret until the doors were locked
And then one day on the Hit Parade
Was a little dark-haired boy
That played the Tennessee flat top box
[Outro]
And he would play