Rosanne Cash – Tennessee Flat Top Box, is a song written and recorded by American country music singer Johnny Cash. It was released as a single in late 1961, reaching 11 on the Billboard country singles charts and 84 on the pop charts. The song's name refers to a steel-stringed acoustic guitar.
Johnny Cash – Tennessee Flat Top Box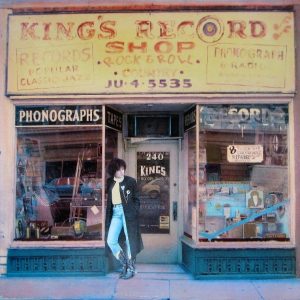 Cash's daughter Rosanne Cash recorded a cover version of "Tennessee Flat Top Box" in 1987 on her album King's Record Shop. Released in November 1987 as the album's third single, it was also the third of four consecutive number-one country hits from that album, peaking in February 1988. Randy Scruggs played the acoustic guitar solos on it.
Rosanne Cash recorded the song at the suggestion of her then-husband, fellow country singer Rodney Crowell. When she recorded the song, she was unaware that her father wrote it, and assumed that it was in the public domain. Johnny later told Rosanne that her success with the song was "one of [his] greatest fulfillments." The Rolling Stone Encyclopedia of Rock & Roll cited Rosanne's cover as a "healing of her strained relationship with her dad." Following her father's death in 2003, Rosanne Cash performed the song during The Johnny Cash Memorial Tribute concert TV special.
Rosanne Cash – Tennessee Flat Top Box
from the album King's Record Shop
B-side "Why Don't You Quit Leaving Me Alone"
Released November 1987
Genre Country
Length 3:09
Label Columbia #07624
Songwriter(s) Johnny Cash
Producer(s) Rodney Crowell




Rosanne Cash – Tennessee Flat Top Box Lyrics
[Verse]
In a little cabaret in a South Texas border town
Sat a boy and his guitar
And the people came from all around
And all the girls from there to Austin
Were slipping away from home and putting jewelery in hock
To take the trip, to go and listen
To the little dark-haired boy
That played the Tennessee flat top box
And he would play
Well, he couldn't ride or wrangle
And he never cared to make a dime
But give him his guitar, and he'd be happy all the time
And all the girls from nine to ninety
Were snapping fingers, tapping toes
And begging him don't stop
And hypnotized and fascinated
By the little dark-haired boy
That played the Tennessee flat top box
And he would play
Then one day he was gone, and no one ever saw him around
He'd vanished like the breeze, they forgot him in the little town
But all the girls still dreamed about him
And hung around the cabaret until the doors were locked
And then one day on the Hit Parade
Was a little dark-haired boy
That played the Tennessee flat top box
[Outro]
And he would play