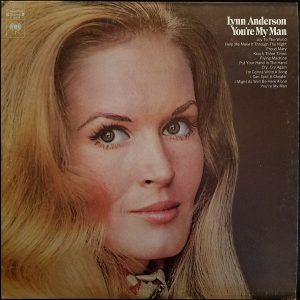 "You're My Man" is a popular No. 1 country hit by country artist Lynn Anderson from 1971.
This song was immediately released after Anderson's song "(I Never Promised You a) Rose Garden" became a major country and pop hit in February 1971. The song was very successful, reaching the top of the country charts in June 1971, and was Anderson's second No. 1 country hit.The song reached No. 1 on the Billboard and Cashbox Country Charts.
"You're My Man" was a major Adult Contemporary hit, placing at No. 6. "You're My Man" spent one week at No. 1 on the country charts, and was one of 11 singles Anderson would place at the No. 1 position.
"You're My Man" is mainly about the narrator describing her affection for her lover, saying there is no one else in the world for her, and she wants "the whole world to know". The song's orchestral arrangements and pop-influenced sound made it a Countrypolitan recording.




From the album 'You're My Man'
B-side "I'm Gonna Write a Song"
Released April 1971
Recorded 1971
Genre Countrypolitan
Length 2:40
Label Columbia
Songwriter(s) Glenn Sutton
Producer(s) Glenn Sutton
Lynn Anderson – You're My Man Lyrics
For once in my life I know the meaning of happiness
And what it means to have a dream come true
Cause every day I wake up singing livin' on the sunshine love is bringing
And it's wonderful knowin' that I owe it all to you
At last I've got a reason to be a living
I'm at the end of the rainbow and the gold is in my hands
Your love is so sweet I can't refuse it heaven help me if I ever lose it
Cause my whole world's just knowing you're my man
I don't understand you but God knows I love you you're my man
I feel so safe when I'm in your arms 'cause you're all man
You're heaven on earth and so dependable
Together we're a team that's just unbendable
I want the whole wide world to know you're my man
At last I've got a reason to be a living
I'm at the end of the rainbow and the gold is in my hands
Your love is so sweet I can't refuse it heaven help me if I ever lose it
Cause my whole world's just knowing you're my man
Oh, my whole world's just knowing you're my man, my man, my man