"Waltz of the Angels" is a song written by Dick Reynolds and Jack Rhodes. It was first recorded by American country artist Wynn Stewart. It was then recorded as a duet between American country artists George Jones and Margie Singleton in 1961. Both versions were major hits on the American country charts.
"Waltz of the Angels" was recorded on February 8, 1956 at the Capitol Recording Studio, located in Hollywood, California. The session was produced by Ken Nelson, who worked with Stewart while he recorded for the Capitol label. It was the only song recorded during this particular session. The session featured west coast country session musicians such as Ralph Mooney and Joe Maphis.
"Waltz of the Angels" was released as a single on Capitol Records in April 1956. It was his first single release with the label. The year, the single became Stewart's first major hit when it reached number 14 on the Billboard country songs chart.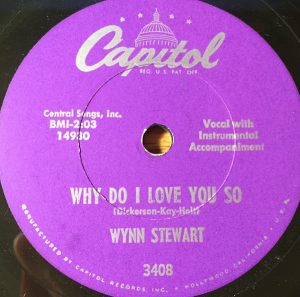 B-side "Why Do I Love You So"
Released April 1956
Recorded February 8, 1956
Studio Capitol Recording Studio
Genre Country
Length 3:05
Label Capitol
Songwriter(s) Dick Reynolds Jack Rhodes
Producer(s) Ken Nelson
Wynn Stewart – The Waltz Of The Angels Lyrics
The waltz of the angels I hear each time
That I hold you tightly in these arms of mine
It must be from heaven this music I hear
When your lips say I love you in waltz time my dear
There must be a power much higher than mine a writer of love songs way up in the sky
The maker of roses of love sweet and true
And the waltz of the angels he wrote just for you
[ steel ]
There must be a power…