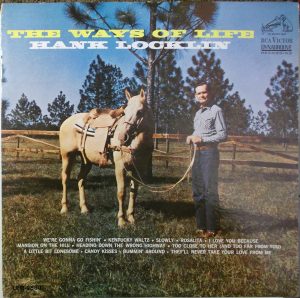 «We're Gonna Go Fishin'» is a song written by Tex Atchinson that was originally recorded by American country singer–songwriter Hank Locklin. In 1962, it was released as a single and became a major hit on the American country chart and in the United Kingdom. It would later be released on Locklin's 1963 album, The Ways of Life.
Hank Locklin reached the zenith of his commercial success with the 1960 single «Please Help Me, I'm Falling.» The song topped the American country charts and also crossed over into the pop market, becoming a top ten hit there. Its success elevated Locklin's career and he had further fits after the single. These further hits included «One Step Ahead of My Past» and «Happy Journey» and «We're Gonna Go Fishin'.» The song was composed by Tex Atchinson. «We're Gonna Go Fishin'» was recorded on April 13, 1962 at the RCA Victor Studio, located in Nashville, Tennessee. It was produced by Chet Atkins. The song's eventual B-side was recorded during the same studio session.




From the album The Ways of Life
B-side «Welcome Home Mister Blues»
Released May 1962
Recorded April 13, 1962
Studio RCA Victor Studio
Genre CountryNashville Sound
Length 2:05
Label RCA Victor
Songwriter(s) Tex Atchinson
Producer(s) Chet Atkins
Hank Locklin – We're Gonna Go Fishin' lyrics
Bring along your fishin' pole and leave your dirty dishes.
Meet me by the fishin' pole and wear your leather britches.
Tell your mom and pa everything's alright.
We're gonna go fishin' next Saturday night.
Lipstick, makeup, leave behind makeup, takes up too much time.
You're a little honey, and you're quite a dish.
But Saturday night we're goin' fishin', you fish.
Don't forget the frying pan and bring along some manners.
Gonna get your catfish and we'll cook 'em up for dinner.
Rollin' up, and fryin' up, and bakin' alright.
We're gonna go fishin' next Saturday night.
Lipstick, makeup, leave behind…
Never mind your powder puff, we're not goin' dancin'.
'Cause your daddy's had enough a dancin' for romancin'.
Bring along your brother, that'll be alright.
We're really goin' fishin' next Saturday night.
Lipstick, makeup, leave behind…
Lipstick, makeup, leave behind…