Discover the Story Behind Hank Williams Jr.'s "I'll Think of Something"
Introduction
Hank Williams Jr.'s "I'll Think of Something" is a classic country music gem that has captivated audiences since its release. This heartfelt song, recorded on June 24, 1974, showcases the exceptional talent and emotional depth of Hank Williams Jr., one of country music's most beloved artists. In this article, we'll delve into the background, lyrics, and impact of this timeless country ballad.
The Origins and Success of "I'll Think of Something"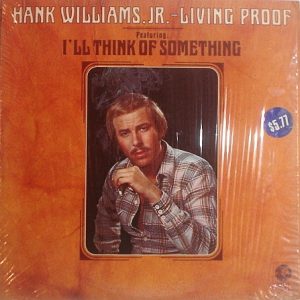 "I'll Think of Something" was written by Bill Rice and Jerry Foster and was featured on Hank Williams Jr.'s "Living Proof," produced by Jim Vienneau. The song's release sparked a wave of excitement among country music fans, quickly climbing the charts and leaving a lasting impression on listeners.
The Song's Message and Themes
At its core, "I'll Think of Something" is a heartfelt anthem about the complexities of love and the resilience of the human spirit. The lyrics tell the story of a brokenhearted individual who, despite the pain of a lost love, promises to find a way to cope and move forward. The song's emotional depth resonates with listeners who have experienced heartbreak and inspires them to find solace in their own lives.
Hank Williams Jr.'s Vocals and Musical Accompaniment
Hank Williams Jr.'s distinctive voice shines through in "I'll Think of Something," conveying the raw emotions embedded in the lyrics. The song's musical arrangement, with its melodic guitar riffs and soulful harmonies, complements the heartfelt vocals, creating a truly immersive listening experience.
The Song's Impact and Chart Success
Upon its release, "I'll Think of Something" quickly gained popularity among country music enthusiasts. It soared number 7 US Hot Country Songs (Billboard) and number 2 on Canadian RPM Country Tracks, solidifying Hank Williams Jr.'s status as a country music icon. The song's success not only highlighted the enduring appeal of Williams' musical style but also showcased his ability to connect with audiences on a profound level.
Conclusion
Hank Williams Jr.'s "I'll Think of Something" remains a treasured gem in the realm of country music. Its timeless lyrics, powerful vocals, and emotional depth continue to captivate listeners, transcending generational boundaries. Whether you're a longtime fan or new to the world of country music, this heartfelt ballad is a must-listen. Experience the magic of "I'll Think of Something" and let its poignant message resonate with you.
Remember, for more insightful articles and updates on the world of country music, stay tuned to When The Cowboy Sings. Don't forget to check out our other posts to discover more fascinating stories behind iconic country songs.
Hank Williams Jr. – I'll Think of Something Lyrics
I don't know how I'll get her ioff my mind
But give me time and I'll think of something
I can't say today that I'm alright
But by tonight I'll think of Something
I'll find so many things to do
That I won't have the time to think of her
And then if she's still on my mind
I'll try to drink enough to drown the hurt
And if that don't work I'll think of something
Where do I go for love that I still need
Now that I'm free I'll think of something
And if someday by accident we meet
And I can't speak I'll think of something
If I can't say a word to her
I'll blame it on this lump that's in my throat
And standing there what will I do
To hide my love enough that it won't show
I don't know I'll think of something
Well, I don't know I'll think of something