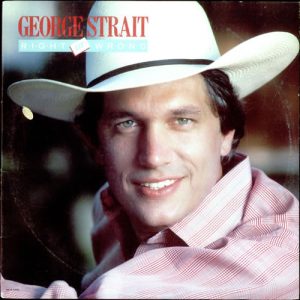 «You Look So Good in Love» is a song written by Glen Ballard, Rory Michael Bourke and Kerry Chater, and recorded by American country singer George Strait. It was released in September 1983 as the lead single from his album Right or Wrong.
The narrator is a guy looking at his ex-lover fall in love with another guy. He realizes just how happy his former girlfriend looks now that she's fallen in true love. He feels sorry for himself that he wasn't the one to make her happy, but part of him realizes it wasn't meant to be.




B-side «A Little Heaven's Rubbing off on Me»
Released September 22, 1983
Recorded July 20, 1983
Genre Country
Length 3:13
Label MCA 52279
Songwriter(s) Glen Ballard. Rory Bourke Kerry Chater
Producer(s) Ray Baker
George Strait – You Look So Good in Love Lyrics
Oh how you sparkle, and oh how you shine.
That flush on your cheeks is more than the wine.
And he must do something that I didn't do.
Whatever he's doing, it looks good on you.
[Chorus:]
You look so good in love.
You want him, that's easy to see.
You look so good in love.
And I wish you still wanted me.
He must have stolen some stars from the sky,
And gave them to you to wear in your eyes.
I had my chances, but I set you free.
And now I wonder why I couldn't see.
[Chorus]
Darling I've wasted a lot of years not seeing the real you,
But tonight your beauty is shining through.
And I never took the time to let you know,
So before he takes you away please let me say.
[Chorus]
You look so good in love.