Unraveling the Melody: Merle Haggard's «My Favorite Memory»
As you embark on a musical journey through the heart of country tunes, there's one classic that stands out—Merle Haggard's «My Favorite Memory.» Let's delve into the intricacies of this timeless piece, exploring its origins, significance, and the maestro behind it.
The Genesis of a Classic
Merle Haggard released «My Favorite Memory» in September 19, 1981. The song, a poignant reflection on love and nostalgia, emerged from the depths of Haggard's soul, capturing the essence of the human experience. Written by Merle Haggard himself, this masterpiece found its way onto the album «Big City» Epic 1981, produced also by Merle Haggard himself.
Chart-Topping Success
Upon its release, «My Favorite Memory» ascended the ranks of country music charts, solidifying Merle Haggard's status as a luminary in the genre. The song not only struck a chord with fans but also etched its name in history, reaching number 1 on US Hot Country Songs (Billboard), also number 3 on Canadian RPM Country Tracks.
Deciphering the Melody's Message
At the core of «My Favorite Memory» lies a narrative that resonates with listeners across generations. The lyrics paint a vivid picture of love and longing, weaving a tapestry of emotions that is both timeless and universal. As the twang of Haggard's guitar strings accompanies his soulful vocals, the song becomes a musical voyage through the highs and lows of life.
The Maestro: Merle Haggard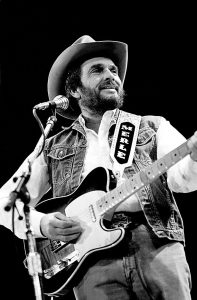 Merle Haggard, a legend in the country music realm, left an indelible mark on the industry. His career, marked by authenticity and raw talent, spanned decades, influencing a myriad of artists. From his humble beginnings to his rise as a stalwart of country music, Haggard's legacy lives on through his songs, each one telling a unique story.
Crafting a Timeless Legacy
With a voice that echoes through time, Merle Haggard's impact extends beyond the notes and chords of his songs. His ability to infuse emotion into every lyric and strum has made him an icon, earning the admiration of fans and fellow musicians alike. From honky-tonk ballads to heartfelt melodies, Haggard's catalog showcases the breadth of his musical prowess.
In conclusion, «My Favorite Memory» encapsulates the essence of Merle Haggard's artistry—a harmonious blend of soul-stirring lyrics and melodic brilliance. As you immerse yourself in the world of country music, let this classic serve as a testament to the enduring power of a well-crafted song.
Merle Haggard – My Favorite Memory lyrics
[Verse 1]
The first time we met
Is a favorite memory of mine
They say time changes all it pertains to
But your memory is stronger than time
[Verse 2]
I guess everything does change
Except what you choose to recall
There's a million good daydreams to dream on
But baby, you are my favorite memory of all
[Verse 3]
Like the night we made love in the hallway
Slept all night long on the floor
Like the winter we spent on Lake Shasta
Alone and closer than ever before
[Verse 4]
And I remember that London vacation
It was you who made the whole thing a ball
There's a million good times I could dwell on
But baby, you are my favorite memory of all
[Verse 5]
The first time we met
Is a favorite memory of mine
They say time changes all it pertains to
But your memory is stronger than time
[Verse 6]
I guess everything does change
Except what you choose to recall
There's a million good daydreams to dream on
But baby, you are my favorite memory of all