George Strait – Blue Clear Sky: The Classic Country Hit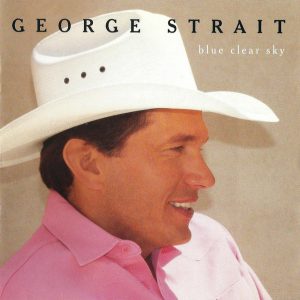 Are you a fan of classic country music? If so, you've likely heard of George Strait's «Blue Clear Sky.» This upbeat track, released in 1996, quickly became a fan favorite and climbed the charts to become one of Strait's most popular songs.
Written by Bob DiPiero and John Jarrard, «Blue Clear Sky» was produced by Tony Brown and appeared on Strait's album of the same name. It reached the number one spot on both the Billboard Hot Country Songs chart and the Canadian RPM Country Tracks chart.
But what makes «Blue Clear Sky» such a classic country hit? Let's take a closer look.
The Song's Production and Composition
From the opening guitar riffs to the catchy chorus, «Blue Clear Sky» showcases George Strait's signature sound. The song's upbeat tempo and energetic instrumentation are hallmarks of Strait's music, and they contribute to the song's upbeat and optimistic feel.
But the song's success isn't just due to its production. The lyrics themselves are also key to its popularity. «Blue Clear Sky» tells the story of a man who has been waiting for the perfect woman, and when she arrives, it's like the sky has cleared up after a storm. The song's simple yet effective message of hope and happiness resonates with many listeners.
George Strait's Impact on Country Music
Of course, «Blue Clear Sky» is just one of many classic hits from George Strait's extensive catalog. Over the course of his career, Strait has become one of the most influential and respected figures in country music.
With his distinctive voice and traditional sound, Strait helped to define the genre and pave the way for countless artists to follow. He has earned numerous awards and accolades throughout his career, including induction into the Country Music Hall of Fame.
Conclusion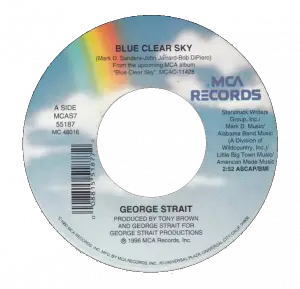 So there you have it: a closer look at George Strait's classic country hit, «Blue Clear Sky.» Whether you're a die-hard fan of Strait's music or just getting into the genre, this song is sure to put a smile on your face and get your toes tapping.
With its upbeat tempo, catchy chorus, and optimistic lyrics, «Blue Clear Sky» is a true classic that continues to resonate with fans of all ages. And with George Strait's ongoing impact on country music, we can be sure that his music will continue to inspire and entertain for years to come.
Don't forget to add «George Strait – Blue Clear Sky» to your country music playlist today!




George Strait – Blue Clear Sky Lyrics
[Verse 1]
You swear you've had enough
You're ready to give up
On that little lie they call love
Then out of the blue clear sky
[Verse 2]
Fallin' right into your hands
Like rain on the desert sand
It's the last thing you had planned
Then out of the blue clear sky
[Chorus]
Here she comes a walkin' talkin' true love
Sayin' I been lookin' for you love
Surprise your new love has arrived
Out of the blue clear sky
[Verse 3]
Ain't love a funny thing
One day you're givin' up the dream
And the next you're pickin' out a ring
Out of the blue clear sky
[Chorus 2]
Here she comes a walkin' talkin' true love
Sayin' I been lookin' for you love
Surprise your new love has arrived
Out of the blue clear sky
Here she comes a walkin' talkin' true love
Sayin' I been lookin' for you love
Surprise your new love has arrived
Out of the blue clear sky
Here she comes a walkin' talkin' true love
Sayin' I been lookin' for you love
Surprise your new love has arrived
Out of the blue clear sky
Out of the blue clear sky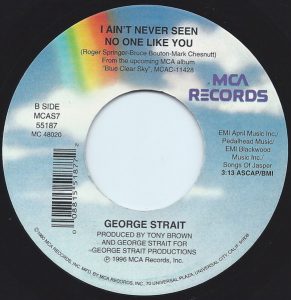 George Strait – Blue Clear Sky
From the album Blue Clear Sky
B-side «I Ain't Never Seen No One Like You»
Released March 25, 1996
Recorded September 27, 1995
Genre Honky-tonk
Label MCA 55187
Songwriter(s) Bob DiPiero John Jarrard
Producer(s) Tony Brown