"Turn the World Around" is a song written by Ben Peters and was recorded as a 1967 single by Eddy Arnold. The single was Eddy Arnold's ninety-seventh release on the country chart. "Turn the World Around" would reach the number one spot on the country charts for one week and spend a total of fourteen weeks on the charts.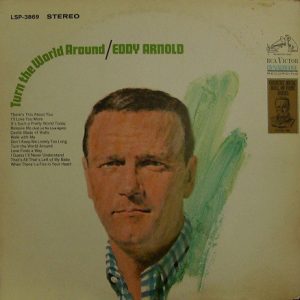 From the album Turn the World Around
B-side "Long Ride Home"
Released July 1967
Genre Country
Label RCA Victor
Songwriter(s) Ben Peters
Producer(s) Chet Atkins
Eddy Arnold – Turn The World Around Lyrics
Turn the world around the other way
Back it up and stop on yesterday
Back to before that silly fight
And give me a chance to make things right
I said some things I didn't mean to say
Things that I am sorry for today
Down on my knees I beg you please
To turn the world around the other way
I never really wanted us to break up
And I'm sorry for each teardrop that you cried
We need to give our hearts a chance to make up
And darling will you stand in by my side?
We'll turn the world around the other way
Back to where it started yesterday
Just take my hand together we can turn
The world around the other way
Yes, we'll turn the world around the other way
Back to where it started yesterday
Just take my hand together we can turn
The world around the other way…