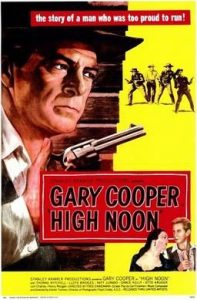 «The Ballad of High Noon» (also known simply as «High Noon», or by its opening lyric and better known title, «Do Not Forsake Me, O My Darlin'») is a popular song published in 1952, with music by Dimitri Tiomkin and lyrics by Ned Washington.
It is the theme song of the movie High Noon (and titled onscreen as such in the film's opening credits as sung by Tex Ritter), with its tune repeated throughout the film. It was awarded the 1952 Academy Award for Best Original Song and was performed that night for the Academy by Ritter. There were only three instruments accompanying Ritter in the soundtrack: guitar, accordion, and the Novachord, which created an unusual electronic percussion quality.
The song appears at number 25 on «AFI's 100 Years…100 Songs». Members of the Western Writers of America chose it as one of the Top 100 Western songs of all time.
Tex Ritter – High Noon lyrics
Do not forsake me, oh my darlin'
On this, our weddin' day
Do not forsake me, oh my darlin'
Wait, wait along
I do not know what fate awaits me
I only know I must be brave
And I must face a man who hates me
Or lie a coward, a craven coward
Or lie a coward in my grave
Oh, to be torn twixt love and duty
S'posin', I lose my fair haired beauty
Look at that big hand move along
Nearin', high noon
He made a vow while in state prison
Vowed it would be my life or his'n
I'm not afraid of death but, oh
What will I do if you leave me?
Do not forsake me, oh my darlin'
You made that promise as a bride
Do not forsake me, oh my darlin'
Although you're grievin', don't think of leavin'
Now that I need you by my side
Wait along, wait along
(Wait along)
Wait along, wait along
(Wait along, wait along, wait along, wait along)