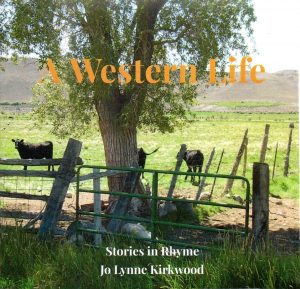 Jo Lynne Kirkwood – A Western Life, By any measure, herein you will find one of the better storytellers in verse, due to both her delivery and her words. The "Western Life" of this collection's title actually takes in many lives and places from history and contemporary western America. But wherever she chooses to go, Jo Lynne Kirkwood can be counted on to give you a special ride getting there.
The tracks were apparently recorded in different locations, but for my ear the tonal shifts actually manage to provide dividers, somewhat like an egg carton! Picks (and there are many) include "Indoor Plumbing" (Grandpa's earnest efforts to modernize); the only too accurate and painful portrait of "Gina;" the suit of four poems "A Cowboy Season" (Summer, Autumn, Winter & Spring); the compelling "Forget Me Not;" "Timberline" (with its genesis so similar to that of Stuart Hamblen's "This Old House"); "Horse Killin'" and "The Auction."
In any representative library of superior Cowboy Poetry, Jo Lynne Kirkwood should (no, make that must) be present. Fourteen tracks, very highly recommended.
CD: (available through jokirkwood.com)
– by Rick Huff