Swinging Country November 18
10: AM- 12: PM CDT USA 🇺🇸 @ KSSLFM.COM
Cowtown Birthplace of Western Swing Fort Worth Highlighting several of the Happenings & Artist that appeared & Surprises. I'll Swing it right out with Some of The Thursday Performers Hallmark Chuck Cusimano, Robert Huston, Rusty Black with Western Swing RULES Band. Steve Markwardt, Jody Nix From Bob Wills & His Texas Playboys For The Last Time Album.
Kylito's Salsa Company Brings you My Friday Selections. Miss Devon and the Outlaw, The Western Flyers, Kelly Spinks & Miles of Texas, Jake Hooker and the Outsiders, Tommy Hooker.
Then My Saturday Selections From JD Barham &Cowjazz Western Swing Band. Drake Milligan & "The Ready Boys" Fan Club.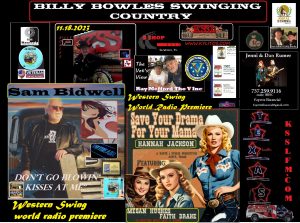 Next Grouping bought to you By Allen Ray Mefford AKA Ray Man The V Man CEO Of The V Inc. This Group of Three Songs Includes Two World Radio Single Premiers both are Western Swing. Starting with Sam Bidwell out of Wichita KS with One off his CD 57 I World Radio Premiered that Album Recently I'm Playing one off that CD that I didn't Play last time. Then The World Radio Premiere of Don't Blow Kisses At Me.
Then The Next World Radio Premiere coming to us From Hannah Jackson called Save You Drama For Your Mama Hanna & Cary C Banks Co Wrote this tune.
Next Grouping had Authentic No BS Genuine Hardcore REAL Traditional Country Music from Kimberly Manning AKA Kimberly Murrary, Myra Leffel Rolen Myra Rolen's Music. Janice L. Maynard.
Next Group bought to you by R Shop Sundown TX. Chuck Cusimano – Musician, with a Short Story Helldorado, Johnny Angel, Jerry D Hobbs, Keith Phillips.
Dena Wood & NDX Brings us Austin McKedy, EV Mae, Evie Lasher, Brayden Ryle Brayden Ryle's Fan Club.
Next Group comes from Dan Rumer Fayette Financial Starting with his Wife Jenni Lyn Runer. Kelli Lewis, Patrick Hannon With Smith Sisters and the Sunday Drivers, Dennis Paul Ledbetter Dennis Ledbetter.
And Then My Thanksgiving Selections Have Mary Chapin Carpenter, Martina McBride, Mighty Merle Haggard, Johnny Cash.
And I'm out of time.
I wish ALL of You a Blessed & Happy Thanksgiving.
Don't Forget to Join Us if you can during the Initial Broadcast for SWING – BACK which IS For CHAT Fellowship, Comments Questions Pictures Etc. Until Then May God Bless You and Yours 🙂 Keep Swinging Country—
Swinging Country November 18