Vince Gill – Tryin' to Get Over You, is a song written and recorded by American country music singer Vince Gill. It was released in January 1994 as the fifth single from his album I Still Believe in You. The song reached the top of the Billboard Hot Country Singles & Tracks (now Hot Country Songs) chart. It was also Gill's last number one single until twenty-three years later, when he reached number one with a guest vocal on Chris Young's "Sober Saturday Night" in March 2017.
Debuted at number 63 on the U.S. Billboard Hot Country Singles & Tracks for the week of January 8, 1994.
The music video was directed by John Lloyd Miller and premiered in early 1994. Filmed in black-and-white with a grainy texture, it features a cameo from Gill's then-wife, Janis. It begins with a still shot of Gill's and Janis' silhouette. The action begins as she instantly leaves him. The remainder of the video shows Gill in a bar and walking along a city street on a rainy night surrounded by various people and alone trying to cope with his sadness. Shots of Janis on her separate path (such as in a cafe and in the back seat of a cab driving away) looking blank-faced are also seen. It ends with a shot of Gill's silhouette again, this time alone.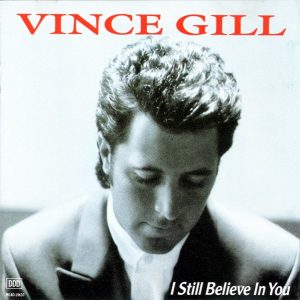 Vince Gill – Tryin' to Get Over You
From the album I Still Believe in You
B-side "Nothing Like a Woman"
Released January 3, 1994
Recorded 1992
Genre Country
Length 3:43
Label MCA
Songwriter(s) Vince Gill
Producer(s) Tony Brown
Vince Gill – Tryin' to Get Over You lyrics
[Verse 1:]
You could have given me a million reasons why
But it wouldn't change a thing
You said it all when you said goodbye
And you took off your wedding ring
[Chorus:]
I've been tryin' to get over you
I've been spending time alone
I've been tryin' to get over you
But it'll take dyin' to get it done
[Verse 2:]
All my friends keep tryin' to fix me up
They say I need somebody new
When it comes to love, I've all but given up
'Cause life don't mean nothin' without you
[Chorus]