SWING POST OFFICIAL for Swinging Country December 03 2022 @ KSSLFM.COM 10:AM – 12:PM CST USA TUNE IN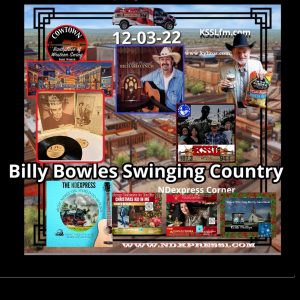 Just in Case anyone reading this is wondering why I Named the Show Swinging Country tune into this episode ALL Will be made clear. My First NINE Tunes ALL come from Bob Wills And His Texas Playboys For The Last Time Album Recorded Dec 3 & 4 1973 49 Years Ago and is considered among the Most Important and Historic Albums of The 20th Century! Along with my commentaries & Facts.
Then In My NDX Corner Three Christmas Tunes coming from Curt Ryle, Lydia Walker, Lisa Layne Stewart.
Then Due to Popular Response Last Week I am Rebroadcasting my Visit With Randy Geisler & @Dan Ristow Rnr Eventmgr About The Happenings at The RnR Event Center Springtown, TX and This Coming Tuesday Dec. 6 The RnR Christmas Party And Caesar Ozuna's Birthday Party! Followed by songs from Chuck Cusimano, Clinton Wayne Sturgeon, Caesar Ozuna.
Then Comes The Main Event My Spotlight Featurded Artist Richard Lynch Donna Richard Lynch And My Special Guest as We World Radio Premiere SEVEN Songs from his About to be Released Album Radio Friend. Richard Just Landed The International World Wide Award from Fair Play Country Music Award for Most Appriciated Male Country Artist of The Year 2022 Just the latest of Many Awards he's garnered. Congratulations!!! You Don't want to Miss My World Radio Album Premieres as They Potentially Make History! Several Have 🙂 We'll Close the Show out with a Couple of Christmas Tunes One from Vanessa Bourne & One From Kristi Kalyn Thanks Everyone Please Feel free to share this Post and Join Us During the Initial Broadcast On My Personal Facebook Timeline for SWING – BACK as you Listen and enjoy for Comments Questions Fellowship. Until Then May God Bless You and Yours 🙂 Keep Swinging country-
Swinging Country December 03