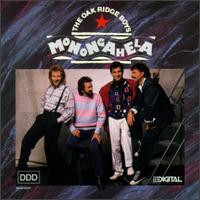 The Oak Ridge Boys – Gonna Take a Lot of River, — often known as "Gonna Take a Lot of River (Mississippi, Monongahela, Ohio)" — is a song written by John Kurhajetz and Mark Henley, and recorded by American country music group The Oak Ridge Boys. It was released in July 1988 as the lead-off single from the album Monongahela.
In October 1988, the song ascended to No. 1 on the Billboard magazine Hot Country Singles chart. The band's 15th chart topper in a string dating to 1978, "Gonna Take a Lot of River" was the first song to feature the lead vocals of group baritone Steve Sanders, who succeeded William Lee Golden in the group's lineup.
In 2011, the group rerecorded the song with a new arrangement and tenor singer Joe Bonsall on lead vocals for their It's Only Natural project at Cracker Barrel Old Country Store. The album included songs originally sung by Sanders. The lineup included Golden on baritone vocals.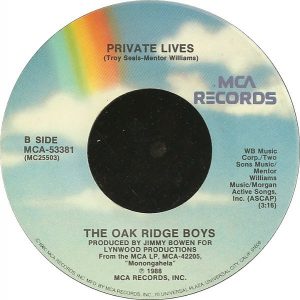 The Oak Ridge Boys – Gonna Take a Lot of River
From the album Monongahela
B-side "Private Lives"
Released July 1988 (U.S.)
Recorded 1988
Genre Country
Length 3:00
Label MCA
Songwriter(s) Mark Henley John Kurhajetz
Producer(s) Jimmy Bowen




The Oak Ridge Boys – Gonna Take a Lot of River Lyrics
I ain't gonna ride no rail or hitchhike down no highway
I ain't' going nowhere feeling the way I do
Because my baby's long gone and nothings going my way
I'm gonna let this muddy water just wash away my blues
It's gonna take a lot of river
To keep this broken heart afloat
Gonna take a lot of river
Running all the live long day
Gonna take the Mississippi, the Monongahela and the Ohio
Gonna take a lot of river
To wash these blues away
Well, I wish I was tug boat pushing and pulling them barges along
Moving on the water with a heart made of iron and steel
There wouldn't be no women who could ever take my loving and do me wrong
I could work all day with nothing in the world to feel
It's gonna take a lot of river
To keep this broken heart afloat
Gonna take a lot of river
Running all the live long day
Gonna take the Mississippi, the Monongahela and the Ohio
Gonna take a lot of river
To wash these blues away
Is she in New Orleans
Is she a cajun queen
I wonder what she's doing now
But if I know her she's got rings and furs
Struggling along somehow
Struggling along somehow
It's gonna take a lot of river
To keep this broken heart afloat
Gonna take a lot of river
Running all the live long day
Gonna take the Mississippi, the Monongahela and the Ohio
Gonna take a lot of river
To wash these blues away
It's gonna take a lot of river
To keep this broken heart afloat
Gonna take a lot of river
Running all the live long day
Gonna take the Mississippi, the Monongahela and the Ohio
Gonna take a lot of river
To wash these blues away
It's gonna take a lot of river
To wash these blues away