Randy Travis – I Told You So, is a song written and recorded by American country music singer Randy Travis from his 1987 album, Always & Forever. It reached number one on the U.S. Billboard and Canadian RPM country singles charts in June 1988. Travis had first recorded it on his 1983 album Live at the Nashville Palace under his stage name "Randy Ray". It became a local hit and one of his most requested songs at the club. In 2007, the song was covered by Carrie Underwood on her album Carnival Ride. Her version was released in February 2009 and was re-recorded and re-released in March as a duet with Travis. Underwood's and Travis's duet peaked at number two on the U.S. country charts in 2009.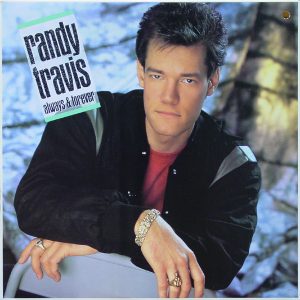 Travis first recorded this for his 1983 "Live at the Nashville Palace" under this stage name at the time "Randy Ray". It was a local hit for him. Travis re-recorded it for his Always & Forever and released it as a single. His rendition was a Number One hit on the Billboard country charts, peaking in June 1988 and spending two weeks at that position.
Randy Travis later recollected on Twitty's response to the song's popularity. "We were working shows with Conway after it was a #1 song for us, and he remembered it; and for a while every time Lib (Travis' manager and later wife) would walk up to him, she'd just say "I Told You So." It got to the point that every time he'd see her coming he'd say "I don't want to hear it."
Randy Travis – I Told You So
From the album Always & Forever
B-side "Good Intentions"
Released March 1988
Recorded 1987
Genre Country
Label Warner Bros. Nashville
Songwriter(s) Randy Travis
Producer(s) Kyle Lehning
Randy Travis – I Told You So Lyrics
[Verse 1]
Suppose I called you up tonight and told you that I love you
And suppose I said I want to come back home
And suppose I cried and said I think I've finally learned my lesson
And I'm tired of spendin' all my time alone
[Verse 2]
If I told you that I realized you're all I ever wanted
And it's killin' me to be so far away
Would you tell me that you love me too and would we cry together?
Or would you simply laugh at me and say
[Chorus]
I told you so, oh, I told you so
I told you someday you'd come crawlin' back and asking me to take you in
I told you so, but you had to go
But now I've found somebody new and you will never break my heart in two again
[Verse 3]
If I got down on my knees and told you I was yours forever
Would you get down on yours too and take my hand?
Would we get that old-time feelin'? Would we laugh and talk for hours?
The way we did when our love first began
[Verse 4]
Would you tell me that you've missed me too and that you've been so lonely
And you've waited for the day that I returned
And we'd live and love forever, and that I'm your one and only
Or would you say the tables finally turned?
[Chorus]
Would you say I told you so, oh, I told you so
I told you someday you'd come crawlin' back and asking me to take you in
I told you so, but you had to go
But now I've found somebody new and you will never break my heart in two again
[Outro]
And now I've found somebody new and you will never break my heart in two again