Porter Wagoner – A Satisfied Mind: The Meaning Behind the Song
Introduction
Have you ever heard the song "A Satisfied Mind" by Porter Wagoner? If not, you're in for a treat. This classic country song is a timeless masterpiece that has touched the hearts of many. In this article, we'll explore the meaning behind the song, as well as some interesting facts about Porter Wagoner and his career in country music.
Porter Wagoner: A Country Music Legend
Porter Wagoner was a country music singer and songwriter who was born on August 12, 1927, in West Plains, Missouri. He was known for his flashy suits and rhinestone-studded outfits, as well as his deep, resonant voice. Wagoner had a long and successful career in country music, and he was inducted into the Country Music Hall of Fame in 2002.
"A Satisfied Mind": The Story Behind the Song
"A Satisfied Mind" was written by Joe "Red" Hayes and Jack Rhodes, and it was first recorded by Porter Wagoner in 1955. The song is about the true meaning of happiness and contentment, and it encourages listeners to focus on the things that really matter in life.
The lyrics of the song are simple but powerful. They remind us that material possessions and wealth are not the keys to happiness. Instead, true happiness comes from the love and relationships we have with others. The chorus of the song sums up this message perfectly:
Money can't buy back
Your youth when you're old
Or a friend when you're lonely
Or a love that's grown cold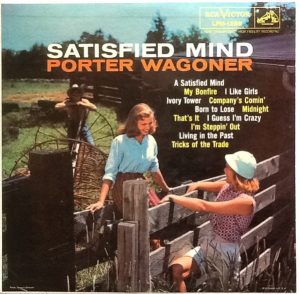 The Success of "A Satisfied Mind"
"A Satisfied Mind" was a huge success for Porter Wagoner. It reached number one on the Billboard country chart in 1955, and it remained on the chart for 20 weeks. The song has since been covered by many other artists, including Johnny Cash, Bob Dylan, and Jeff Buckley.
The song was included on Wagoner's album "Satisfied Mind," which was released in 1957. The album was a critical and commercial success, and it helped to establish Wagoner as one of the leading figures in country music.
Conclusion
In conclusion, "A Satisfied Mind" is a classic country song that has stood the test of time. Its message of true happiness and contentment is just as relevant today as it was when it was first recorded over 60 years ago. Porter Wagoner was a true legend of country music, and his contribution to the genre will never be forgotten.
Porter Wagoner – A Satisfied Mind Lyrics
How many times have you heard someone say
If I had his money I could do things my way
But little they know that is so hard to find one rich man in ten with a satisfied mind
Once I was waiting in fortune and fame
Everything that I dreamed for to get a start in life's game
But suddenly it's happened I lost every dime
But I'm richer by far with a satisfied mind
Money can't buy back your youth when you're old
Or a friend when you're lonely or a love that's grown cold
The wealthiest person is a pauper at times compared to the man with a satisfied mind
When life has ended my time has run out
My friends and my loved ones I'll leave there's no doubt
But there's one thing for certain when it comes my time
I'll leave this old world with a satisfied mind