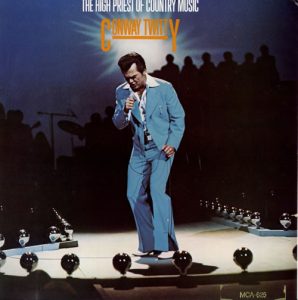 "Don't Cry, Joni" (or "Don't Cry Joni") is a song written by American country music artist Conway Twitty. He recorded it with his daughter Joni Lee and released as a single in 1975. The recording peaked at number 63 on the US Billboard Hot 100 chart.
Is Twitty's duet with his then 16-year-old daughter, Joni Lee Jenkins. According to country music writer Tom Roland, Joni Lee had wanted — after years of resistance — to become an entertainer, and her father decided that allowing her to duet with him on the song (which he had written years earlier) might provide some encouragement.
On the week of December 20, 1975, the original version by Conway Twitty and his daughter entered the US Billboard Hot 100 It spent seven weeks on the chart, reaching its peak position of number 63 on the week of January 31, 1976.




From the album High Priest of Country Music
B-side "Touch the Hand"
Released August 1975
Recorded 1974
Genre country
Label MCA
Songwriter(s) Conway Twitty
Producer(s) Owen Bradley
Conway Twitty and Joni Lee – Don't Cry Joni Lyrics
Jimmy please say you'll wait for me
I'll grow up someday you'll see
Saving all my kisses just for you
Signed with love
forever true
Joni was the girl who lived next door
I've known her I guess 10 years or more
Joni wrote me a note one day
And this is what she had to say
Jimmy please say you'll wait for me
I'll grow up someday you'll see
Saving all my kisses just for you
Signed with love
forever true
Slowly I read her note once more
Then I went over to the house next door
Her tear drops fell like rain that day
When I told Joni what I had to say
Joni, Joni please don't cry
You'll forget me by and by
You're just fifteen
I'm twenty two
And Joni I just cant wait for you
Soon I left our little home town
Got me a job and tried to settle down
But these words kept haunting my memory
The words that Joni said to me
Jimmy please say you'll wait for me
I'll grow up some day you'll see
Saving all my kisses just for you
Signed with love
forever true
I packed my clothes
And I caught a plane
I had to see Joni
I had to explain
How my heart was filled
With her memory
And ask my Joni if she'd marry me
I ran all the way
To the house next door
But things weren't like they were before
My tear drops fell like rain that day
When I heard what Joni had to say
Jimmy, Jimmy please don't cry
You'll forget me by and by
It's been five years since you've been gone
Jimmy I married your best friend John
You got the only daddy that'll walk the line