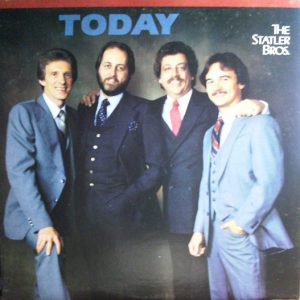 «Elizabeth» is a song written by Jimmy Fortune, and recorded by American country music group The Statler Brothers. It was released in November 1984 as the second single from the album Today. The song was The Statler Brothers' 44th country hit and their second number one on the country charts. The single went to number one for one week and spent a total of 13 weeks on the country charts.
The song was the first No. 1 Statler Brothers' hit to feature Fortune on lead vocals. A music video for «Elizabeth» was produced, but is not included on the Statler Brothers VEVO page or elsewhere.
Bluegrass music band Dailey & Vincent covered the song on their 2010 album Dailey & Vincent Sing the Statler Brothers. This version was nominated for the 2011 Grammy Award for Best Country Performance by a Duo or Group with Vocal.




From the album Today
B-side «The Class of '57»
Released November 1984
Genre Country
Length 3:26
Label Mercury
Songwriter(s) Jimmy Fortune
Producer(s) Jerry Kennedy
The Statler Brothers – Elizabeth lyrics
Oh Elizabeth, I want to see your pretty face
I want to touch your lips, I want to feel your warm embrace
Don't know if I could ever live my life without you
Oh Elizabeth, I'm sure missing you
I remember when we shared a life together
You gave me strength and love with life that felt brand new
When you're so far away, I'd have to say I'm feeling blue
Oh Elizabeth, I'm sure missing you
Oh Elizabeth, I long to see your pretty face
I long to touch your lips, I long to feel your warm embrace
Don't know if I could ever live my life without you
Oh Elizabeth, I'm sure missing you
Well it's been said before that I've caused many heartaches
And I wonder if that was really true
Being all alone feels my heart would surely break
Oh Elizabeth, I hope you understand
Oh Elizabeth, I want to see your pretty face
I want to touch your lips, I want to feel your warm embrace
Don't know if I could ever live my life without you
Oh Elizabeth, I'm sure missing you
Don't know if I could ever live my life without you
Oh Elizabeth, I'm sure missing you
Oh Elizabeth