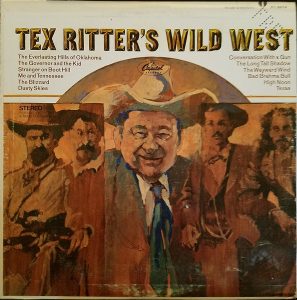 Tex Ritter – The Wayward Wind, In 1956, versions were recorded by Gogi Grant, Tex Ritter, and Jimmy Young, of which Grant's was the biggest seller in the United States and Ritter's in the United Kingdom. The song reached No. 1 on the Cash Box chart, which combined all recorded versions, while Grant's version reached No. 1 on the Billboard chart on its own. Billboard ranked it as the No. 5 song for 1956. It became a Gold record. Ritter used the song to open his stage shows.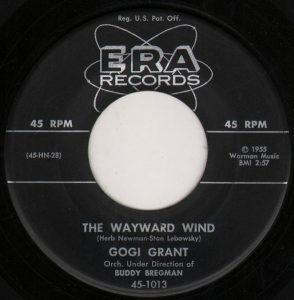 Grant's recording featured a female chorus, heard in the intro and outro of the song, sliding up and down, impersonating the sound of the wayward wind.
In 1961, Grant's recording was reissued and reached Billboard No. 50 and Cash Box No. 78. That same year, Patsy Cline made a recording, which did not chart. In 1963, a new recording was made by Frank Ifield, which reached No. 1 on the UK Singles Chart for three weeks duration.




The song made the Billboard country chart in a version by Irish flautist James Galway with vocal accompaniment by American country singer Sylvia. Produced in Nashville by Bill Pursell, the single was released in 1982 and it rose to No. 57 in 1983.
Tex Ritter – The Wayward Wind lyrics
[Chours]
Oh, the wayward wind is a restless wind
A restless wind that yerns to wonder
And I was born a next of kin
A next of kin of the wayward wind
[Verse 1]
In a lonely shack by a railroad track
I spent my younger days
And I guess the sound of the outward bound made me a slave to my wonderin' ways
[Chorus]
And the wayward wind is a restless wind
A restless wind that yerns to wonder
And I was born a next of kin
A next of kin of the wayward wind
[Verse 2]
Oh, I met a girl in a part of town
I vowed we'd never part
Though I tried my best to settle down
She's now all alone with a broken heart
[Chorus]
And the wayward wind is a restless wind
A restless wind that yerns to wonder
And I was born a next of kin
A next of kin to the wayward wind
[Outro]
The next of kin to the wayward wind
The wayward wind