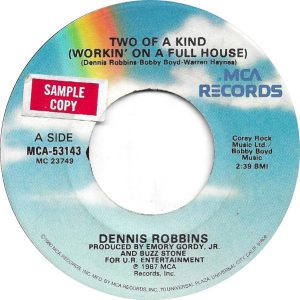 Garth Brooks – Two of a Kind, Workin' on a Full House, is a song co-written by Warren Haynes, Dennis Robbins and Bobby Boyd. It was originally recorded by Robbins himself in 1987 for MCA Records and charted at number 71 on the Billboard country charts. The B-side to Robbins' version was "The Church on Cumberland Road," which was later a number one hit in 1989 for Shenandoah.
The song was later recorded by American country music artist Garth Brooks for his album No Fences in 1991. His rendition was released as the album's third single and his fifth consecutive number one hit.
Garth provided the following background information on the song in the CD booklet liner notes from The Hits:
This song came to me through Jon Northrup. He was doing a demo deal, and "Two of a Kind" was one of the four songs he was pitching for a demo. When I heard it, I said, "I wish you all the luck on your deal, but if for some reason it falls through, I'd love to have this." He called me three months later and told me I could have it if I wanted it. I immediately cut it. And to this day, even though it's a small, light-hearted song, it's one of the strongest parts of our live show. People just seem to connect with this song. This is a big point to writers and artists out there, especially myself, that sometimes intense gets the point across, but don't forget to show 'em your sense of humor.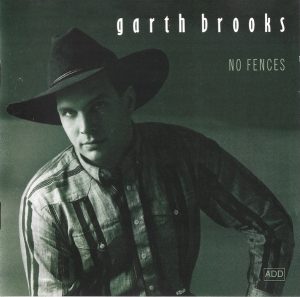 Garth Brooks – Two of a Kind, Workin' on a Full House
from the album No Fences
B-side "Unanswered Prayers"
Released January 1991
Recorded 1990
Genre Country
Label Capitol Nashville 44701
Songwriter(s) Dennis Robbins, Bobby Boyd, Warren Haynes
Producer(s) Allen Reynolds
Garth Brooks – Two of a Kind, Workin' on a Full House Lyrics
[Verse 1]
Yeah, she's my lady luck, hey, I'm her wild card man
Together we're buildin' up a real hot hand
We live out in the country, hey, she's my little queen of the South
Yeah, we're two of a kind, workin' on a full house
[Verse 2]
She wakes me every mornin' with a smile and a kiss
Her strong country lovin' is hard to resist
She's my easy lovin' woman, I'm her hard-workin' man, no doubt
Yeah, we're two of a kind, workin' on a full house
[Bridge]
Yeah, our pickup truck is her limousine
And her favorite dress is her faded blue jeans
She loves me tender when the goin' gets tough
Sometimes we fight just so we can make up
[Verse 3]
Lord, I need that little woman like the crops need the rain
She's my honeycomb and I'm her sugar cane
We really fit together, if you know what I'm talkin' about
Yeah, we're two of a kind, workin' on a full house
[Bridge]
This time I found a keeper, I made up my mind
Lord, the perfect combination is her heart and mine
The sky's the limit, no hill is too steep
We're playin' for fun, but we're playin' for keeps
[Verse 4]
So, draw the curtain, honey, turn the lights down low
We'll find some country music on the radio
I'm yours and you're mine, hey, that's what it's all about
Yeah, we're two of a kind, workin' on a full house
[Outro]
Lordy, mama, we'll be two of a kind, workin' on a full house