Swinging Country February 18 2023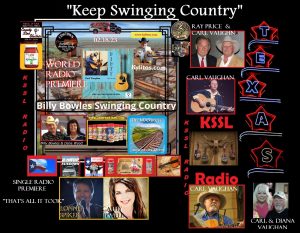 THIS WEEK A DOUBLE MAIN EVENT!!!!
Howdy Friends I'll Swing it right out with Bret Raper & Loyd Wood. Carlos Washington & Carlos Washington's STEEL HORSE SWING. Tommy Thomsen Group. Jimmy Burson.
Then The First Main Event A World Radio Album Premiere FIFTY YEARS In The Making!!! From Carl Vaughan We will explain that in the Broadcast. The Album has 24 Recordings and I'll Spin a Third of them. With a Three part visit with Carl.
After which we will hear from Daryn Wright, Josh Ryle, Austin McKedy Music, KC LaCourse.
Followed by a tune from Lonnie Spiker and a tune from Cathy Jewell And Then the SECOND MAIN EVENT I"ll visit with Cathy and Lonnie explaing the stories behind there New Single and then World Radio Premiere that Tune called That's All It Took!!! Then visit some more with them and play another tune each from both of them. The rest of the show features the following Artist Lisa Layne Stewart, Dennis Paul Ledbetter, John Mark Davis, Karen Spradlin, Kerry Fearon, Kristy Kalyn, Rick George Music, Sonny Burgess.
Please Join Us on My personal Timeline for SWING – BACK for Chat Comments Pictures etc. As you listen to the Initial Broadcast. Until then May God Bless You And Yours 🙂 Keep Swinging Country—
Swinging Country February 18