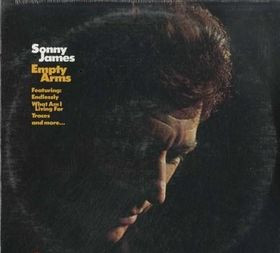 Sonny James – Empty Arms, is a song composed and first recorded by Ivory Joe Hunter which became an R&B hit in 1957. This original version peaked at #2 on the US, R&B Airplay chart and at #43 on the pop chart.
Cover Versions
A cover version by Teresa Brewer became a hit the same month as the original recording.
The song was successfully revived with a 1971 single by Sonny James. "Empty Arms" was Sonny James' eighteenth number one on the country charts. The single stayed at number one for four weeks and spent a total of fifteen weeks on the chart.
Sonny James – Empty Arms
From the album Empty Arms
B-side "Everything Begins and Ends with You"
Released January 1971
Genre Country
Label Capitol
Songwriter(s) Ivory Joe Hunter
Empty Arms Lyrics
Mm-mm-mm
Mm-mm-mm
Empty arms that long for you
And they wait, they wait just for you
And these arms will stay this way
Till you return to them some day
Each lonely night I'll go to bed
Mm-My heart the pillow where you used to lay your head
Empty arms, but not for long
'Cause my man, he is comin' home
And when he, when he walks through that door
These empty arms I'll have no more
Yeah, these empty arms I'll have no more