The Rifters – The Enchanted World
Producer extraordinaire/singer/multi-instrumentalist Don Richmond, singer/guitarist (and former Head Cowboy of the Philmont Boy Scouting Ranch) Rod Taylor and singer/composer Jim Bradley make up the superlative band The Rifters!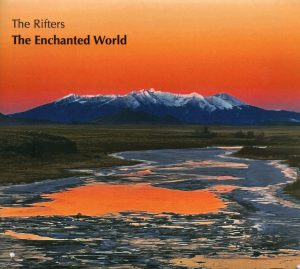 The well-known smoothness of execution and gentle harmony of this beloved northern New Mexico group prevail again in this, their seventh release after nearly three decades of entertaining. The sweet presentation (the sugar) may help some stiff medicine to go down for certain folks. They just shouldn't be so "certain." A booklet with lyrics and annotations on song and selection inspirations is enclosed.
Original picks include Richmond & Taylor's "The Circle" and their "So Many Different Things;" Taylor & Teri McCartney's "The Perfect Dance" and the tough-minded "The Dollar Worth of Mother Earth" from Taylor and outspoken cowboy poet Waddie Mitchell. All four CD covers are picks: Andy Wilkinson's Max Evans-inspired "The Greatest Mystery," Eliza Gilkyson & John Gorka's "At The Foot of The Mountain," one that Hall of Famer Hi Busse always championed as being a Western song Haven Gillespie & Beasley Smith's "That Lucky Old Sun" and John Hartford's "Gentle On My Mind."
Fourteen tracks, very highly recommended.
CD: $19.99 + $4 s/h from The Rifters, PO Box 825, Alamosa, CO 81101 or through rifters.net/product/the-enchanted-world
by Rick Huff
The Rifters – The Enchanted World
Track List List:
1 – The Circle
2 – The Greatest Mystery
3 – The Enchanted
4 – The Perfect Dance
5 – It's Cause You Lived
6 – At the Foot of the Mountain
7 – The Dollar Worth of Mother Earth
8 – Tres Pies
9 – The Wonder of You
10 – Nothing Is Free
11 – That Lucky Old Sun
12 – So Many Different Things (feat. Eliza Gilkyson)
13 – At the Rail
14 – Gentle on My Mind (feat. Peter Wernick)