Rick Norcross & The All Star Ramblers – God Bless The Mighty Pickle, No, they are NOT saluting Mae West's "pickle in your pocket" joke! This one was a long green 1957 Flxible Starliner tour bus that carried Rick Norcross & The All Star Ramblers to scores of shows over the course of 22 years. "The Pickle" now lives as "The Chief" in Marty Stuart's Congress of Country Music Museum in Philadelphia, Mississippi!! In the refurbishing of the vehicle it was renamed (and made red)!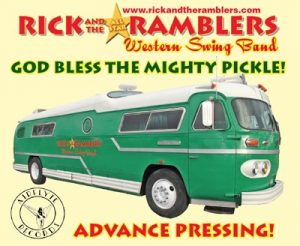 The Ramblers' lady vocalist Taryn Noelle was honored in 2019 with a Will Rogers Award from the AWA for Western Swing Vocalist of the Year, and she struts her stuff in this release with a fine cover version of "Shame On You." This sampler also includes "Out In The Cold," "They Go Faster," the novelty "Help Us Find Our Song" and the title track. The basic effect of "Vermont's Premiere Western Swing Band" is authentic and loose-limbed, You can almost feel the protective chicken wire enclosure around them, although one suspects their northeastern crowd is a bit more staid in their "critiques" than Texas road house patrons tend to be!
Rick Norcross is closing in on six decades of being a performing musician. In fact his life was the subject of the Stephen Russell Payne book "Riding My Guitar!" So you can rightly assume he knows a swing or two about how to keep the folks dancing. This five-song EP is a teaser for a reunion tour album coming in 2023, and it's recommended.
EP and other music: (available through rickandtheallstarramblers.com)
– by Rick Huff
Rick Norcross & The All Star Ramblers – God Bless The Mighty Pickle
Track List
God Bless The Mighty Pickle
Help Us Find Our Song
Out In The Cold
Shame On You
They Go Faster