Merle Haggard – It Makes No Difference Now: A Classic Country Song
Are you a fan of classic country music? If so, you've probably heard of Merle Haggard, one of the most influential artists in the genre. One of his most beloved songs is «It Makes No Difference Now,» a poignant ballad that speaks to the heart of anyone who has ever experienced heartbreak.
The Song
«It Makes No Difference Now» was written by Jimmie Davis and Charles Mitchell and was first recorded in 1938. Since then, it has been covered by many artists, including Merle Haggard, who recorded it for his 1980 album «The Way I Am.» The song tells the story of a man who has lost the love of his life and is struggling to move on. The lyrics are simple but powerful, and Haggard's soulful voice brings them to life.
The Album
«The Way I Am» is the thirtieth studio album by American country music artist Merle Haggard, released in April 1980. The album is 34 minutes and 37 seconds long and was produced by Fuzzy Owen, Don Gant, and Porter Wagoner. The album features a rendition of Floyd Tillman's classic statement of romantic fatalism, «It Makes No Difference Now,» and three songs by Ernest Tubb: «Take Me Back and Try Me One More Time,» «I'll Always Be Glad to Take You Back,» and «It's Been So Long, Darlin'». The LP's hit single was the Sonny Throckmorton-penned title track, «The Way I Am,» which reached #2 on the Billboard country singles chart. The album was not written by Haggard himself, unlike his previous album «Serving 190 Proof».
Chart Performance
«It Makes No Difference Now» was not released as a single, so it did not chart on its own. However, Haggard had many other hits throughout his career, including «Okie from Muskogee,» «Mama Tried,» and «The Fightin' Side of Me.» He was a mainstay on the country charts for decades and was inducted into the Country Music Hall of Fame in 1994.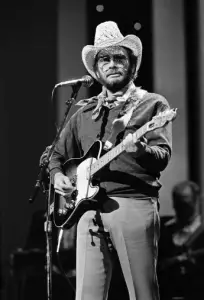 The Artist
Merle Haggard was born in California in 1937 and grew up in poverty. He turned to music as a way to escape his difficult upbringing, and by the 1960s, he had become one of the most popular country artists in the world. Haggard's music was known for its honesty and authenticity, and he wrote many of his own songs. He passed away in 2016, but his legacy lives on through his music.
In conclusion, «It Makes No Difference Now» is a classic country song that has stood the test of time. Its simple but powerful lyrics and Merle Haggard's soulful voice make it a must-listen for any fan of the genre. Whether you're going through a tough time or just appreciate great music, this song is sure to touch your heart.
Merle Haggard – It Makes No Difference Now Lyrics
[Verse 1]
Makes no difference now what kind of life fate hands me
I'll get along without you now, it's plain to see
I don't care what happens next, I'll get by somehow
I don't worry 'cause it makes no difference now
[Verse 2]
It was just a year ago when I first met you
I learned to love you and I thought you loved me too
But that's all in the past and I'll get by somehow
I don't worry 'cause it makes no difference now
[Verse 3]
Now that we have really parted, I can't believe it's true
I don't blame myself and I'm sure I can't blame you
But something had to happen and it happened somehow
I don't worry 'cause it makes no difference now
[Verse 4]
After all, is said and done, I'll soon forget you
Although I know it will be so hard to do
But let things happen as they will, I'll get by somehow
I don't worry 'cause it makes no difference now