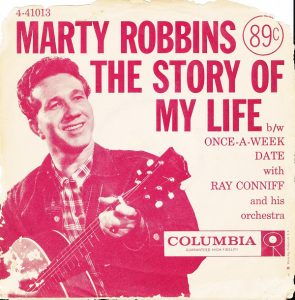 «The Story of My Life» is a song written by Burt Bacharach and Hal David. It was published in 1957.
The song was a 1957 hit for American country music singer Marty Robbins, which peaked at number one on the US country chart for four weeks and reached number fifteen on the Billboard Top 100 and number two on Australian Singles Chart.
In the United Kingdom, a cover version recorded by Michael Holliday reached No.1 in the UK Singles Chart in February 1958, before being replaced by Perry Como's «Magic Moments», also written by Bacharach and David.




From the album Marty's Greatest Hits
Released 1957
Genre Country
Length 2:33
Label Columbia
Songwriter(s) Burt Bacharach, Hal David
Marty Robbins – The Story Of My Life Lyrics
Someday I'm going to write
The story of my life
I'll tell about the night we met
And how my heart can't forget
The way you smiled at me
I want the world to know
The story of my life
About the night your lips met mine
And that first exciting time
I held you close to me
The sorrow in our love was breakin' up
The mem'ry of a broken heart
But later on, the joy of makin' up
Never never more to part
There's one thing left to do
Before my story's through
I've got to take you for my wife
So the story of my life
Can start and end with you
The sorrow in our love was breakin' up
The mem'ry of a broken heart
But later on, the joy of makin' up
Never never more to part
There's one thing left to do
Before my story's through
I've got to take you for my wife
So the story of my life
Can start and end
Can start and end
Can start and end with you