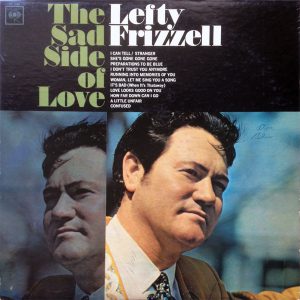 «She's Gone Gone Gone» is a country music song written by Harlan Howard and originally recorded by American singer Lefty Frizzell. Frizzell's version of the song reached number 12 on the Billboard Hot Country Singles & Tracks chart.
An uncredited review in Billboard said that the song has a «catchy rhythm but sad lyric» and that Frizzell «performs in his top fashion».
In 1984, Carl Jackson covered the song. His version, released as his debut single for Columbia Records, peaked at number 44 on the same chart.




From the album The Sad Side of Love
B-side «Confused»
Released May 1, 1965
Genre Country
Length 2:20
Label Columbia
Songwriter(s) Harlan Howard
Producer(s) Don Law
Lefty Frizzell – She's Gone Gone Gone Lyrics
[Verse 1:]
She said If I ever deceived her
She'd be gone before I could count ten
I guess that I didn't believe her
'Cause look at the trouble I'm in
[Chorus:]
She's gone, gone, gone, gone, gone, gone
Crying won't bring her back
The more that I cry, the faster that train
Flies farther on down the track
[Verse 2:]
I've lost every right to be happy
When I lost the heaven I found
She warned me she'd leave and she left me
Before my first tear hit the ground
[Chorus]
[Verse 3:]
If I only knew where to find her
I'd crawl there on my hands and knees
Each tick of the clock's a reminder
She's one second farther from me
[Chorus]