Theme composed by an unconditional country music since the 50s Freddie Hart., We could say that it is a theme, which was lucky to be rescued, because in the early 70s, Freddie had a contract with capitol records, the song was recorded in 1970, and included on the album "California grapevine", the single that gives name to the album, did not have the desired success, remaining stuck in the number 68 of the billboards, so capitol rescinded the contract with Freddie Hart.
But here came the stroke of luck, a disc jockey from a radio station in Atlanta, Georgia, began to put the theme of "easy loving", continuously, receiving a great response from the listeners of the station, the song was popularized very quickly, so August 1971, the song was within the top ten of the country list. On September 11, it became number 1, being the first of Freddie's career. , staying three weeks in this position, also managed to enter the position number 17 of the pop lists.




With this song, he won the highest awards in 1972, being named, the best vocalist and male artist of the year, the best single and song of the year, also getting gold disc for sales of more than one million copies.
In addition to all these awards and recognition, made Freddie career become very successful, re-signing with the capitol Records, and getting 5 numbers one more consecutively, between 1972 and 1973.
It was also a very versioned song, and here some of those versions: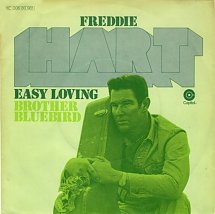 Lynn Anderson 1971 (Columbia)
Jack Green 1971 (Decca)
Bob Luman 1972 (Epic)
Loretta & Conway 1972 (MCA)
Kenny Price 1972 (RCA )
Willie Hightower 1972 (Mercury)
Charlie McCoy 1973 (Monument)
Slim Whitman 1974 (United Artist Records)
Sheb Woley 1979 (Gusto Records)
Lorrie Morgan 2009 (Country Crossing Records)
Miquel Batlle Garriga
mbatllegarriga@gmail.com
Freddie Hart – Easy Loving lyrics
Easy lovin', so sexy lookin'
I know from the feelin' that it comes from the heart
Easy lovin', every day's thanksgivin'
To count all my blessings, I wouldn't know where to start
Every time I look you over
So real to life it seems
For upon your pretty shoulders
There's a pair of angel wings
Easy lovin', seein's believin'
Life with you's like livin' in a beautiful dream
Every time I look you over
So real to life it seems
For upon your pretty shoulders
There's a pair of angel wings
Easy lovin', seein's believin'
Life with you's like livin' in a beautiful dream