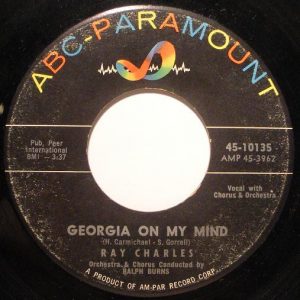 Willie Nelson – Georgia on My Mind, is a 1930 song written by Hoagy Carmichael and Stuart Gorrell and first recorded that same year by Hoagy Carmichael. However, the song has been most often associated with soul singer Ray Charles, who was a native of the U.S. state of Georgia and recorded it for his 1960 album The Genius Hits the Road. In 1979, the State of Georgia designated Ray Charles' version the official state song.
Willie Nelson recorded the song on Stardust, his 1978 album of standards. It was released as single, peaked at No. 1 for a single week, and ranked for sixteen weeks on a country chart.
The original lyrics, including the commonly excised introductory verse, are in the Georgia Code under license.
Willie Nelson – Georgia on My Mind
From the album Stardust
B-side «On the Sunny Side of the Street»
Released March 25, 1978
Genre Country
Length 3:55
Label Columbia
Composer(s) Hoagy Carmichael
Lyricist(s) Stuart Gorrell
Producer(s) Sid Feller
Willie Nelson – Georgia on My Mind Lyrics
[Verse]
Georgia, Georgia
The whole day through
An' just an old sweet song
Keeps Georgia on my mind
Georgia, Georgia
A song of you
Comes as sweet and clear
As moonlight through the pines
Other arms reach out to me
Other eyes smile tenderly
Still in peaceful dreams I see
The road leads back to you
[Chorus]
Georgia, Georgia
No peace I find
Just an old sweet song
Keeps Georgia on my mind
Georgia, Georgia
No peace I find
Just an old sweet song
Keeps Georgia on my mind
On my mind
On my mind
On my mind
On my mind
On my mind
On my mind
On my mind
On my mind