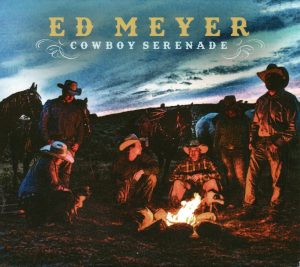 Ed Meyer – Cowboy Serenade, Ed Meyer possesses a warm, mellow baritone voice that tonally points in the direction of maybe a Gordon Lightfoot. On this new release the fine singer/songwriter also benefits from the tasteful production of Aarom Meador and session support from Matthew Walton (lead and acoustic guitar & steel), Jess Meador (fiddles) and the inimitable Jake Hooker (upright bass).
Three of the tracks are nicely constructed and delivered poems. This is particularly true of "Me and Ol' Pard" with its surprise ending. We are naming it as one of the CD's pick tracks. The pick songs include the title track "Cowboy Serenade," a song called "Cowboy Til I Die" that Meyer actually wrote many years back for a pair of his friends and the easy loping "Horse Trainer," inspired by someone expressing to him that you can only be a good cowboy if "you ride a good horse."
In listening to these treatments of Ed Meyer's originals, you could easily accept his songs as being Golden Age classics. This may partially be due to producer Meador recognizing the material for what it is. Ten tracks, highly recommended.
CD: (email meyeree3@gmail.com)
– by Rick Huff